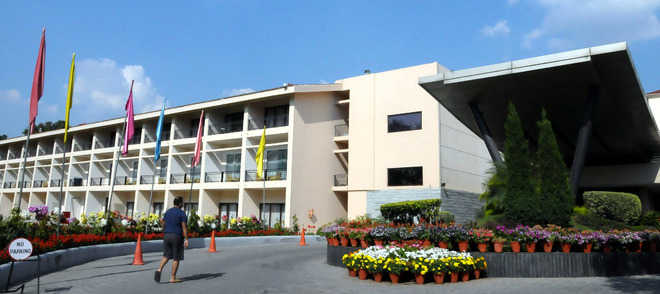 Ramkrishan Upadhyay
Chandigarh, February 15
One of the flagship hotels of the Chandigarh Industrial and Tourism Development Corporation Limited (CITCO), Hotel Mountview has been without the five-star status for seven months now, after its validity got expired in August last year.
Hotel Mountview was the first hotel in the city which received the five-star status.
While the officers of the CITCO claimed that an application for renewal of the five-star status was filed six months before the expiry of the validity in February last year, sources in the Ministry of Tourism claimed that the application was delayed due to incomplete information in the application.
Sources added that the delay had cost dearly to the hotel as its name had been removed from the list of the five star hotels placed on the official website of the Ministry of Tourism.
Considering the hotels are an important component of the tourism product as they contribute in the overall tourism experience through the standards of facilities and services offered by them, the Ministry of Tourism has formulated a voluntary scheme for classification of operational hotels in the star category hotels like five star deluxe, five star, four star, three star, two star and one star. The classification has been done with the aim of providing contemporary standards of facilities and services available in the hotels.
When contacted, Rakesh Rawat, general manager of Hotel Mountview, denied that there was any delay on their part while filing the application for renewal. He said the application was filed in February last year i.e. six months before the expiry of the validity as mandatory under the rules. "The ministry asked for certain queries in May which were supplied to them," he added. He further said they had been waiting for the inspection team to visit the hotel.
Meanwhile, Home Secretary Anurag Agarwal said he would look into the matter and would seek the report for the delay in the renewal.
An officer in the ministry said the documentation part had been accepted and the name of Hotel Mountview had been enlisted for the inspection. The five-star status will depend upon the report of the inspection committee.