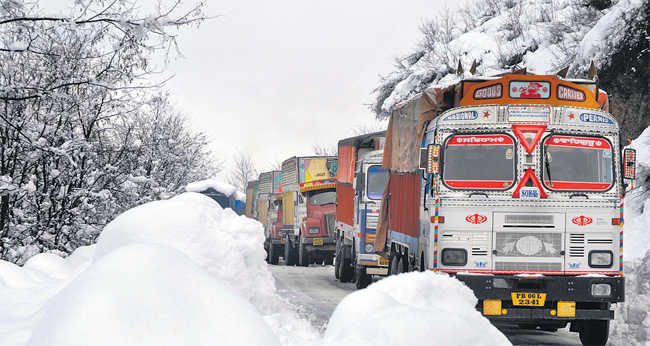 Who would like his son to be a truck driver? You may scornfully reject the question. The fact is the low-paid driver belongs to one of the most exploited unorganized sector of the country. Worse, we don't have qualified drivers. All India Motor Transport Congress says the country has a shortage of 12.5 lakh drivers – that is, if you employ one driver on each heavy transport vehicle. In percentage terms, this is a 22% shortfall. And if you look at Union Transport Ministry's guidelines, the shortfall would be twice the figure.
The results are visible: the prices of several essential commodities that need to be ferried to long distances have risen substantially over the years as truckers have demanded not only extra money but extra time as well.
Unlike in the US, where drivers are highly paid and regulations are in place to allow only 70 recorded hours of driving within a week, there is no such guidelines in India. Also, in the US and Europe, driving truck is seen as a skilled employment. In India it is considered a menial job that only semi-literate people can do.
A truck driver has the least of remuneration and has no social security. He works long hours in inhospitable working conditions, and faces harassment from law enforcement agencies and common drivers.
Transport industry
The country has around 5.7 million vehicles, including heavy, medium and light commercial vehicles on the road and adds over 2 lakh heavy trucks every year. Around 70% of the freight in India moves on road, with trucks doing most of heavy lifting.
The speed of a truck in India is a around 30-40 km/hour because of poor road infrastructure. In countries like the US, the average speed is around 60-80 km/hour which means it covers around 700-800 km per day. The current logistics costs in the country are around 18 per cent of the total input cost compared to 8 per cent in China.
Union Minister for Road Transport and Highways minister Nitin Gadkari recently said that India has a 22% shortage of drivers. Sources say the demand for drivers and trucks outstripped supply, post liberalization in 1991-92.
All India Motor Transport Congress president, Bhim Wadhwa says many of the transporters' fleet is lying idle. "There is a social stigma attached to the transport industry, so nobody wants to become a driver."
In Chandigarh transporters say there has been a sharp drop in the number of people who migrate from states such as Bihar, Uttar Pradesh, and Himachal Pradesh in search of employment in the transport industry. A senior official in the transport department said government programmes such as the rural employment scheme, guaranteeing 100-day work to all rural households has meant people staying on in their villages. Also, the advent of taxi aggregators such as Ola, Uber and others has lured many erstwhile truck drivers to opt for taxi driving. The benefits are diverse: better pay, better living condition, relaxed working hours and respect from society.
For instance, after driving light commercial drivers for five year, Manpreet Singh, a Punjab resident, shifted to driving car through taxi app Ola. For Manpreet it is not the money alone that matters. Moreover, he is very close to his family members. "When I drove a truck, I spent most of my time far away from my family. But with a taxi, I meet them regularly," he said. Today, he earns more than Rs 15,000 per month. As a truck driver, the best he could make was Rs. 10,000.
Fake licences & accidents
Transport Minister Nitin Gadkari has repeatedly said that 33% of driving licence are bogus across all categories. In 2015, the total accidents caused by trucks tempos and other transport vehicles were 98,897. Out of the total 33,710 were fatal as 37,458 people were killed and 92,174 were injured across the country.
Corporates are coming forward to assist the drivers. Two original equipment manufacturers, Tata Motors and Ashok Leyland, have started driver training schools in association with state governments, but the number is too small. Drivers complain that most training centres are not located close to the main centres. Wadhwa complained that these centres should be linked with Registering and Licensing Authority so trainees should get licence easily after training.
The condition of trucks in India has substantially improved: these have power steering, GPS tracking devices and are more fuel-efficient. The government is also planning to construct truck clubs alongside the proposed 1,300 highways with basic amenities. A tender has already been floated for 70 of them.
Top News
Cane growers will get Rs 391 per quintal, says Bhagwant Mann
Polling draws to a close | Counting of votes on Dec 3
The data showed Punjab had only four days in 2023 where fire...