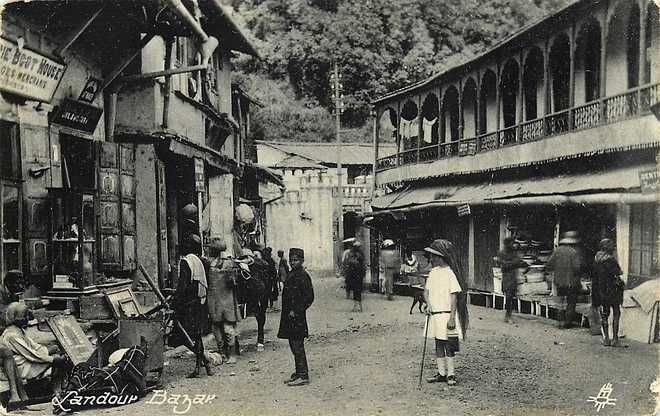 Ajay Ramola
Tribune News Service
Mussoorie, December 20
Mussoorie has always been a favourite place of tourists, writers, botanists, environment lovers and honeymooning couples. Captain Fredrick Young and FJ Shore, the first Superintendent of Dehradun, are credited with discovering Mussoorie and they first set up a shooting box on the Camel's Back Road in 1823.
Besides cool climate, the British liked Mussoorie mountain ranges as these were not prone to landslips. As a result, they would make trips to Mussoorie hills as the place had no dismal memories of deaths and disasters.
The town that unlike other places did not get cut off from plains due to heavy rains attracted the British towards Mussoorie and encouraged them to settle there in large numbers.
The two towns—Landour (predominantly a cantonment area) and Mussoorie—were expanding, and by 1907 they literally became one township. Mussoorie had many clubs, fine grounds with games of different kinds to attract tourists. Several large and small hotels, numerous boarding houses catering to students, a race course, a polo ground, numerous first class shops, good water supply, and electric lighting came up, drawing more people towards the hill town that had started taking shape and fast becoming popular by 1907.
Henry Bohle from Meerut opened a brewery to cater to British soldiers, who were living in the convalescent depot at Landour Cantonment Board, at present the building of the Institute of Technology Management (ITM) where scientists are imparted various training skills. For British people, who could not enjoy freely at other hill stations due to presence of Viceregal residences, found Mussoorie much liberal, thus heralding it as the leisure capital of India, the status that it claims even today.
Landour Bazaar that is considered the oldest settlement of Mussoorie hasn't changed much architecturally except the Clock Tower that was demolished. The façade might have changed but important landmarks bear the same look as they did during the British Raj days. During that period, the point from the earlier Clock Tower area to Gurdwara Chowk was known as Parade Lane as it was here that British troops marched on for a number of years. Later, this area evolved into a small business hub called Shivaji Market.
Another landmark is Castle Hill estate, the possession of which was later handed over to the Survey of India. Today, it is lying abandoned as most of the survey parties have shifted elsewhere.
The local administration and the municipal council have done precious little for Landour Bazaar that has all the ingredients for becoming a heritage bazaar and an exclusive walk way for heritage loving tourists, say local residents.
Pankaj Aggarwal, owner of Hapur Sweets shop, says, "Landour Bazaar is part of old Mussoorie that encompasses the legacy of the British Raj. However, successive governments and the municipal council have not been able to develop it into a major tourist attraction. We have not been able to attract the descendants of the British citizens, who had lived in the Landour area and died here". Several proposals have been given to the municipal council, including the one to declare the Picture Palace to Char Dukan stretch as Heritage Mall Road.
A historical account inscribed on the wall of the Castle Hill estate would do no harm, says Aggarwal. He adds the businessmen should put up signboards of the same size on their shops for a uniform look. The façade of the shops can be of the Pahari style and decorated with corn bunches to give them a heritage look.
The chowk near the rear gate of the Survey of India should be named after Goga peer, saint of the Valmiki Samaj. More parking spaces should be created adjacent to the MDDA parking to ease congestion at Landour Bazaar. Residents should be encouraged to retrofit their buildings so that these give a look of a ghost town. Traffic should be redirected towards the South Road and the movement of vehicles should be banned on the Landour Bazaar road from 4 pm so that people could walk freely, says Aggarwal.
Castle Hill where Maharaja Duleep Singh lived in isolation
The distinguished Punjab prince, Maharaja Duleep Singh, son of legendary Maharaja Ranjit Singh, was afforded a shelter at the Castle Hill estate in Landour Bazaar around 1853. The child prince was deposed
at the age of 10. He was removed from the influence of his mother and her intriguing ministers and was put under the care of Sir John Spencer Login, a naval surgeon who worked for the East India Company. Login was appointed Duleep Singh's tutor when he was aged five and later exiled to England.
Following that, Duleep Singh was sent to Mussoorie for the sake of good health and the castle at the top of Castle Hill, the property that was owned by Geo Bladen Taylor for some time and later by Henry Vansittart, was chosen as his residence. While in Mussoorie, no one was allowed to meet him except his trusted servants. As a matter of British policy, he was to be anglicized in every possible respect. He was often sent to the Castle Hill fort at Landour for convalescence and he would remain there for weeks.
In 1853, under the tutelage of his long-time retainer Bhajan Lal (himself a Christian convert), he converted to Christianity at Fatehgarh with the approval of the Governor-General Lord Dalhousie. His conversion remains controversial, and it occurred before he turned 15. He later had serious doubts regarding this decision and reconverted to Sikhism in 1886.
After a brief period, on annexation of Punjab, he was sent to England where he made his permanent residence. The Castle Hill estate, which was later handed over to the Survey of India, is lying abandoned. It should be linked with Raja Duleep Singh so that Sikh tourists could come and have a sense of history.
Top News
The accused ASI was nabbed by local people, who then handed ...
Pace sensation Titas Sadhu, leg-spinner Parshavi Chopra dish...
Congress leader says people of J-K are in pain and his party...
The drone show will light up the evening sky over the Raisin...
Two frontline combat aircraft of the IAF crashed during a tr...