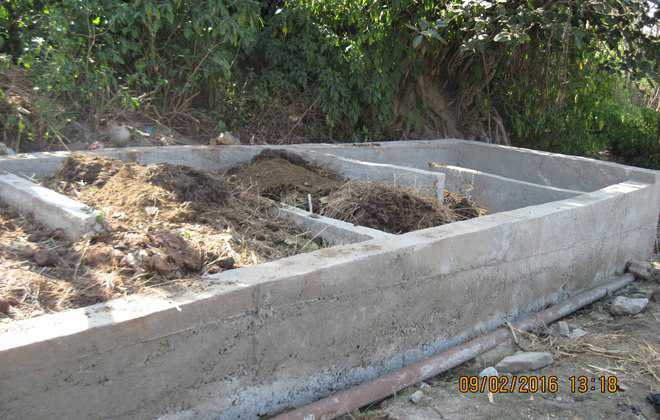 Amit Khajuria
Tribune News Service
Mohargarh (Samba), Feb 11
National Bank for Agriculture and Rural Development (NABARD) has helped the water deprived Mohargarh village in Samba district of Jammu and Kashmir.
The bank has not only strengthened the village economically by helping through agricultural skills and providing watersheds, but also provided the villagers a social strength with the Self Help Groups (SHGs).
Mohargarh village has a population of about 1,000 people. It is located in the hilly area of Samba district. The village is allegedly been ignored by the state administration as there is no arrangement of drinking water facility and people have to walk up to 10 km to get a vehicle to go to Samba. NABARD initiated its watershed development programme for this village in 2013 and sanctioned Rs 1.33 crore for the implementation of the project. Around 1,003 hectares of land is being used for farm bunding, stone gully plugging, staggered trenching, horticulture plantation, forestry plantation etc.
NABARD has also constructed 11 check dams in Mohargarh panchayat, under which Telhar, Partyal, Rajoul, Kathar, Kummi, Mohargarh and Padal villages, are being benefited.
"NABARD has changed our life in the last three years. Now, we are not only making milk products, but also involved in agriculture which was earlier impossible in this water-deficient village," Mohammad Soni (23), a villager.
"Our idea was to educate the people of the village. We feel proud when people show us their farms," said Surinder Singh, District Development Manager, NABARD.
Top News
Odisha government has issued helpline 06782-262286. The rail...
At least 50 people died and 350 were injured in a three-way ...
12837 Howrah-Puri Superfast Express, 12863 Howrah-Bengaluru ...
WFI chief demanded sexual favours in lieu of supplements and...
Said agitation will be intensified by holding panchayats acr...