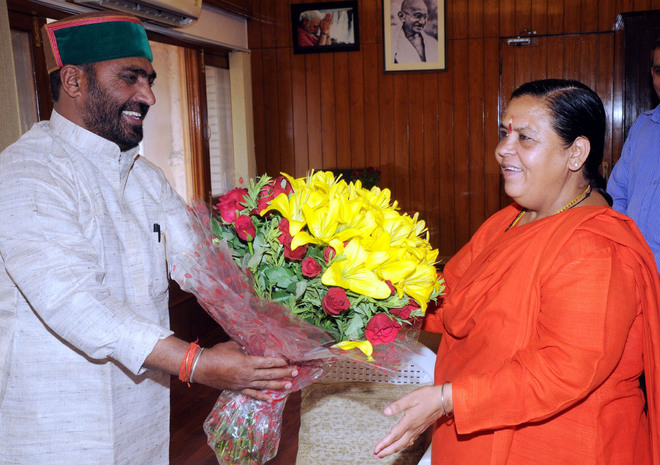 Tribune News Service
Dehradun, June 9
Minister for Drinking Water and Education Mantri Prasad Naithani called on Union Minister for Water Resources, River Development and Ganga Rejuvenation Uma Bharti in New Delhi today.
Naithani apprised her of tough geographical conditions and large-scale damage occurred in the state following the 2013 natural disaster.
He said the state government had already sent proposals of restructuring the Ganga Action Plan and other new plans for approval to the Centre. Earlier, the government had also written a letter to the Ministry of Water Resources and River Development in this regard.
He said a proposal of Rs 9.80 crore with regard to the construction of damaged sewage treatment plants under the Ganga Action Plan in Gangotri, Uttarkashi and Devprayag cities had been approved by the empowered steering committee (ESC) in October 2014. However, fund allocation was still awaited. He requested for the release of the amount at the earliest.
Naithani said proposals of Rs 210.53 crore for sewerage projects in Gopeshwar, Joshimath and Srinagar under the Namami Gange programme had already been sent to the Government of India for approval.
Notably, most of the cities in Uttarakhand have less than 1 lakh population. Gopeshwar, Joshimath and Srinagar fall under this category. There is no sewerage plan proposed by the Central Urban Development Ministry for these cities. In the absence of treatment plants, untreated water of kitchens, bathrooms discharges directly into the Ganga.
Naithani said sewage treatments plants in these cities would help reduce pollution in the Ganga.
Naithani said the Muni-Ki-Reti-Dhalwala scheme of Rs 95.60 crore had been approved by Centre on September 20, 2013, in a sponsored programme of Word Bank. However, the scheme was objected to at an ESC meeting on May 5 this year.
He demanded the approval of all proposals sent by the government. Uma Bharati assured him of positive actions.
Top News
Eye on China, reiterate commitment to ensure free, open Indo...
Rubbish reports of their withdrawal from protest
Puri Vande Bharat 1st passenger train to run on restored tra...
PGI 2nd best medical institute after AIIMS-Delhi; PU slips t...
Says world paying price for wrong policies of some developed...