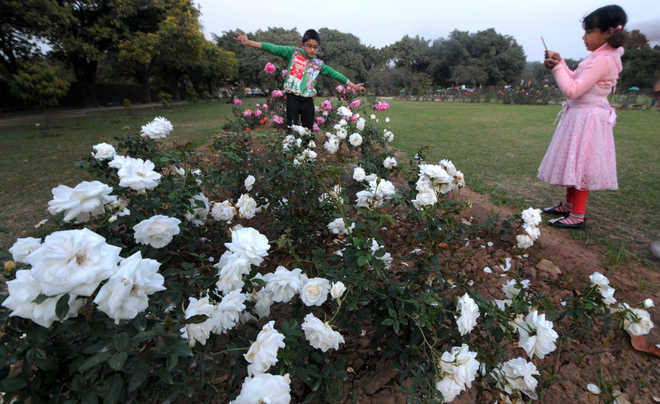 A two-day national seminar on quality concerns in teacher's education concluded at Government College of Education. Various key issues related to education of teachers were reflected upon in the technical sessions. The seminar was inaugurated by Kriti Garg, IAS, SDM (South). She reiterated need for a culture of knowledge on all the platforms of society. She also felt gratitude towards her teachers and emphasised the need for the good education to act as a catalyst for ensuring survival of human society.
CAPACITY-BUILDING WORKSHOP
Capacity building workshop to generate innovative ideas and knowledge – A step towards interdisciplinary approach was organised at Post Graduate Government College for Girls, Sector 42. On the sixth day of workshop informative lectures were delivered by Dr Madhuri Rishi and Dr Neelam Gulati Sharma. Dr Rishi emphasised on the need for water conservation and suggested many innovative strategies. Rain water harvesting can be a boon for water conservation and can solve water scarcity problems.
Workshop On Cyber Security
A two-day workshop on cyber security and information management began today at MCM DAV College for Women. The department of computer science and applications organised the workshop with the vision to impart conceptual and practical hands-on training on cyber security strategies. Arun Soni, MD, TCCS, Sahil Bhagla, CEO, EH1 Infotech and Manjot Kaur conducted the workshop on the first day with focus on creating awareness about significance of IP address, router vulnerability, social engineering hacking attack and protection, Facebook vulnerability and protection.
SOCIAL SCIENCE CONFERENCE
Large number of students and experts participated in various events and programmes at the sixth Chandigarh Social Science Congress (CHASSCONG 2016), which started at Panjab University today. In the post-lunch session, simultaneous paper presentation sessions were conducted at social science departments and students participated in poster making, essay writing and quiz competitions. The day ended with a play 'Ten Dark Days' staged at open air theatre, Panjab University. The technical session was chaired by Prof Pam Rajput, Professor Emeritus, Department-cum-Centre for Women's Studies and Development, Panjab University. Four illustrious speakers including Prof Satya P Gautam, Prof Virendra Kumar and Prof SL Sharma regaled the audience with their analysis of current social issues using the craft of their respective discipline. Prof Pam Rajput brought to attention the need to introspect individually and collectively about the nature of teaching and research in order to produce good scholars. The Department of Guru Nanak Sikh Studies, Panjab University today organised a special lecture on the eighteenth century in Sikh history in the context of sixth social science conference. Speaker Dr Karamjit Kaur Malhotra, assistant professor, Department of Punjab Historical Studies, Punjabi University, Patiala, stated that the eighteenth century in Sikh history stands for a political revolution. Erstwhile peasants and artisans, who joined the Khalsa panth formed by Guru Gobind Singh replaced the Mughals and Afghans in the province of Lahore (Punjab). Based on a wide range of contemporary sources the lecture highlighted the transformation in the religious, social and cultural life of Sikhs.
LECTURE DELIVERED
Senior Investigator and Chief, Neurobiology-Neurodegeneration and Repair Laboratory, National Eye Institute, NIH, Dr Anand Swaroop delivered his talk on topic genetic epigenetic regulation of retinal development in the department of Biochemistry, Panjab University. Dr Anand Swaroop mentioned that on 20 December 2013, the UN General Assembly 68th Session proclaimed 2015 as the international year of light and light-based technologies. Dr Swaroop lab is working to touch the advancements of artificial retina or bionic eye. His team is looking for the genetic and epigenetic reason behind retinal cell degradation and detachments by using genetic and bioengineering approaches. — TNS
Top News
Wankhede moved the high court last month seeking quashing of...
The rate increase cycle was paused in April after six consec...
Waste was being burnt, which allegedly resulted in the explo...
He has been awarded forfeiture of three years' seniority of ...
This will be followed by the Sarkar Aapke Dwar programme the...