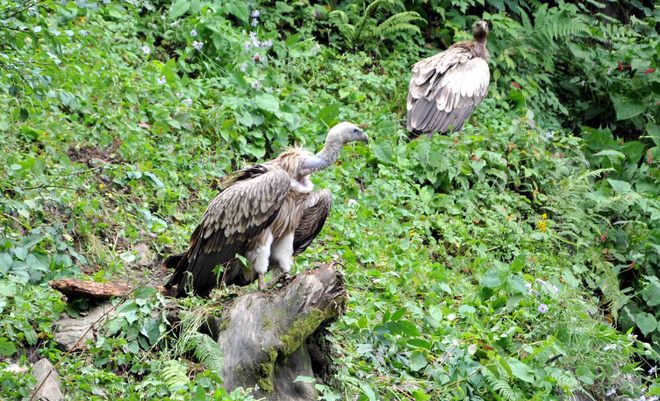 Pratibha Chauhan
Tribune News Service
Shimla, June 17
There has been a dramatic increase in the number of vultures in the past one decade with huge flocks of even 175 scavengers becoming a common sight.
Reason: These scavengers are feasting on diclofenac-free carcasses specially supplied at the feeding stations in Dehra area of Kangra.
It is due to the efforts made by the Wildlife Wing of the Forest Department that the number of vultures has shot up from a mere 30 in 2004 to over 900 in 2013 as per vulture survey undertaken by the authorities. The number of nests and fledglings has also risen from a mere 26 and 23 to 271 and 234, respectively, between 2004 and 2014.
The population of vultures considered as natural scavengers had plummeted drastically, largely due to overuse of an anti-inflammatory veterinary drug diclofenac, which the birds consume from the carcass. The in-situ conservation project was launched in Himachal in 2004 to save vultures from a possible extinction and banning the use of diclofenac by India, Pakistan and Nepal helped in this endeavour.
Tarun Shridhar, Additional Chief Secretary (Forest and Revenue), said: "We set up breeding and feeding points after marking the potential nesting sites concentrated in Parol, Salol, Chadevh, Daulatpur, and Mastgarh in Kangra as these areas have ample mother pine (chir) trees which vultures find the most suitable for setting up their nests."
The master birds are breeding in colonies of about three to 30 nests per colony with each breeding area spread over an area of five to 20 hectare.
He emphasised that the setting up of two feeding stations near Pong Dam and at Nagrota Suriyan and another recent addition at Jawali had helped in the rise of vulture population.
There is an arrangement with cobblers who bring the dead animal and skin them inside the feeding stations, which are enclosed with the help of interlinked fence to keep stray dogs away.
The Wildlife Department had initially set up a protected area of over 200 hectare for the protection of the oriental white backed vultures in Lunj area of Kangra.
Top News
Says strength of democratic institutions to figure in discus...
BKU protests as sunflower not procured on MSP
Kuki insurgents target soldiers' camp in school
NCB unearths pan-India trafficking | 6 held, all in their 20...