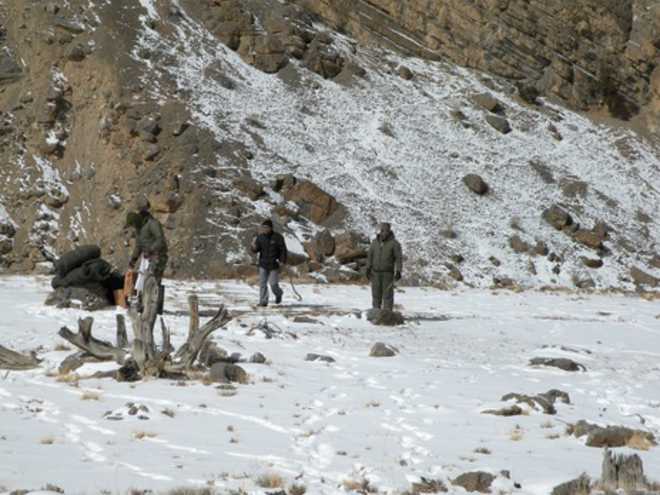 Ehsan Fazili
Tribune News Service
Srinagar, February 12
After an aerial survey and on-the-spot assessment of the situation, the National Disaster Management Authority team today had detailed discussions with senior state government officers on the Phuktal river blockage in Kargil district.
The five-day visit of the eight-member NDMA team to the Zanskar subdivision of Kargil district ended today. The expert team held a video conference with the Divisional Commissioner, Kashmir, Rohit Kansal, Deputy Commissioners of Leh and Kargil and senior officials of the NDMA in New Delhi today.
"We have prepared the rehabilitation and relocation plan to ensure that human lives and property are saved," said Rohit Kansal. A complete report on the number of villages, people and livestock has been prepared as part of the relocation plan. The District administration of Leh and Kargil have blocked the Chadar frozen river route since January 17 for locals and tourists as the route faces the threat of a flash flood in the eventuality of a sudden breach in the blockage across the Phuktal river.
The team is expected to submit a report to the state government in the next two or three days on the measures that could be taken to prevent any crisis or loss to lives and property due to the river blockage.
With bad weather conditions, the NDMA team could initially only undertake an aerial survey of the blockage site. Following an improvement in weather, a four-member team landed near the blockage site yesterday to assess the situation, officials here said. They included RK Varma, Scientist, DRDO; Maheshwar Singh, Survey Officer; Major Dheeraj Pohad of the 70 Engineering Regiment; and Skalzang Wangyal, Executive Councillor, Zanskar, LAHDC, Kargil.
"It is the first time since the landslide that anybody has set foot on the spot. It was a tremendous challenge for the District Administration and the Indian Air Force," an official spokesman said.
Top News
Asks not to spread fake news amid reports of her distancing ...
'US-India partnership is a cornerstone for a free and open I...
Rehana Fathima, a woman's right activist, was facing charges...
On August 3, 1991, Congress leader and brother of former MLA...
Injured admitted to hospital in Imphal where their condition...