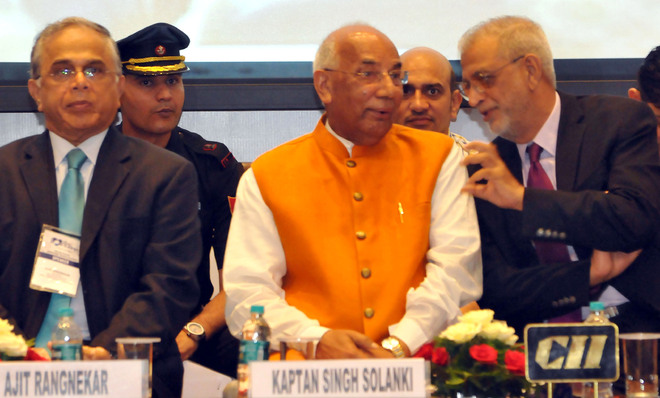 Our Correspondent
Mohali, August 5
There is a need for strengthening industry-led research to attain high-tech, low-cost and environmentally sustainable manufacturing in India. This was stated by Kaptan Singh Solanki, Governor, Punjab and Haryana, and UTAdministrator, during the Edu Summit organised by the Confederation of Indian Industry (CII), in partnership with the Indian School of Business (ISB) and the Haryana Government on the ISB campus here today.
He said India's growth story could never be accomplished in the current global scenario without focusing on knowledge and technology-based engineering.
"It is most vital that industry invests heavily in R&D to find innovative ways in both services and manufacturing sectors. To succeed in our "Make-in-India campaign", in true sense, our manufacturing has to be both cost and resource effective as well as environmentally sustainable, with the least impact on climate. To attain this, the only solution is active collaboration and partnerships of industry in the higher education and R&D projects with governments, universities, institutes, global community colleges and other education tools and service providers," the Governor said.
The Governor said notwithstanding a network of more than 750 universities and over 45,000 colleges, the gross enrolment ratio in higher education was still at 19.4 per cent as compared to 84 per cent in the US, 59 per cent in the UK, 55 per cent in Japan and 28 per cent in China. Hence, there was a need for both industry and governments to invest in existing institutes, set up new institutes and develop new knowledge clusters.
Vijai Vardhan, Additional Chief Secretary, Higher Education, Haryana, said the Haryana Government was committed to creating centres of excellence under the PPP mode with industry to reach out with the latest knowledge, technology and research to as many youth as possible across the state.
Vijay Thadani, Chairman, CII National Committee on Higher Education, and Vice-Chairman and Managing Director, NIIT Ltd, said the CII believed that the country could not achieve the universalisation of education without the efforts of the private sector. The CII had been focusing on policy advocacy with the governments on key issues, forging PPP partnerships, strengthening and expanding industry-academia linkages, etc.
"Our target is 10 Nobel laureates from India in the next decade," he said.
Ajit Rangnekar, Co-Chair, CII Edu Summit, and Dean, Indian School of Business, said knowledge and technology were the key in each sector, be it services or manufacturing. The growth of the knowledge economy had gained momentum with rapid globalisation of ideas and acceleration of technological advancement. To accelerate growth and development, India must initiate strong policies to build R&D capability, invest in human resource development, align education systems with sectoral needs and tap investments from the private sector, with the government playing a critical role as a catalyst.
Top News
Deal expected to be complete by March 2024 | Tata group owns...
In his first major foreign policy speech since taking charge...
Actor Anupam Kher condemns Nadav Lapid's controversial remar...
Gilon also pulls up Indian social media users doubting the h...