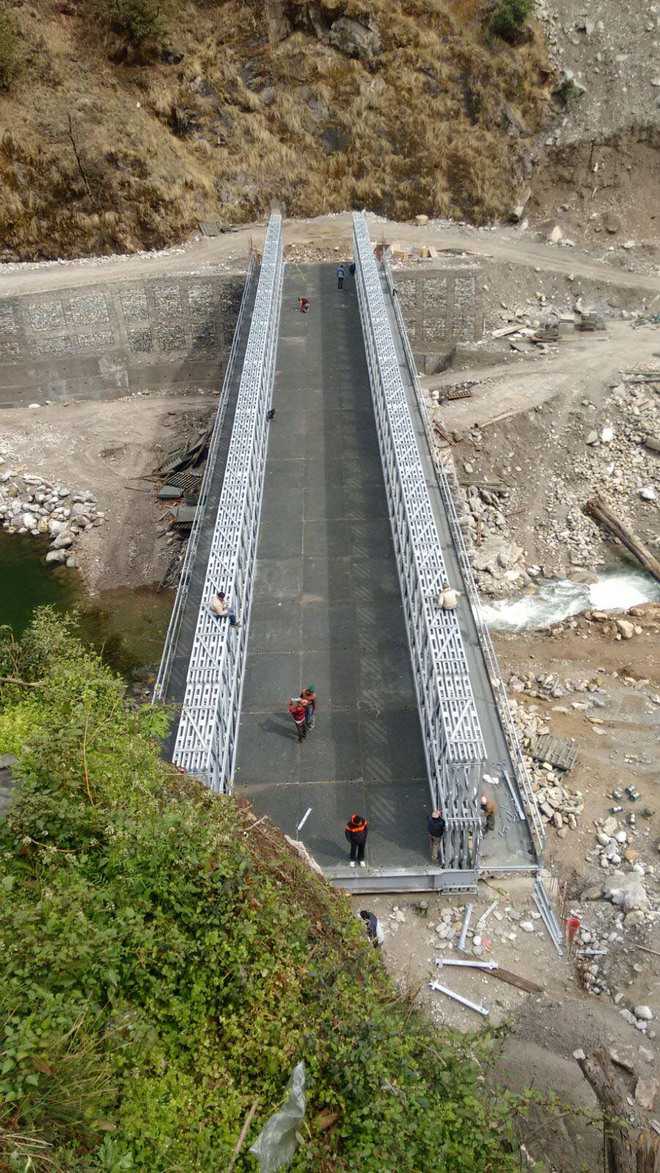 Tribune News Service
Dehradun, March 27
Char Dham Yatra pilgrims will have an easy access to the Kedarnath shrine this season. The bridge at Sonprayag, which had been washed away twice in the past three years, has now found a more permanent base with the setting up of a state-of-the-art emergency bridge.
The bridge has been constructed on the Mandakini river, between Sonprayag and Gaurikund, and has been completed in a record time of 30 days with the help of World Bank funding.
A US-based bridge company, Acrow, set up the bridge under the Uttarakhand Disaster Recovery Project (URDP), with help from the Indian Infrastructure and Project Consultancy Company (ICT).
The unprecedented floods that lashed the Kedarnath Valley in June 2013 left the region devastated.
The road bridge at Sonprayag was critical to reach Gaurikund, from where the final 16-km trek to Kedarnath begins. The bridge near the confluence of the Mandakini and Songanga rivers was washed away in 2013.
Subsequently, a 27-m Bailey bridge was built by the Border Roads Organisation (BRO), limiting traffic to one way and a maximum load of 12 tonnes at the most. But June 2015 saw another floods wash away the new bridge too.
KK Kapila, chairman, International Road Federation, and also chairman, Infra Project Consultancy Company, said the setback suffered due to washing away of Bailey bridge was handled better this time with a decision to set up Acrow bridge.
"The Acrow parts are fabricated with superior steel. They are designed better for heavier contemporary traffic loads to meet National Highway specifications of two lane and three lane bridges.
For long, this kind of bridge has been recommended as a new generation emergency bridge by various experts worldwide," Kapila added.
Locals say it is a big relief for commuters.