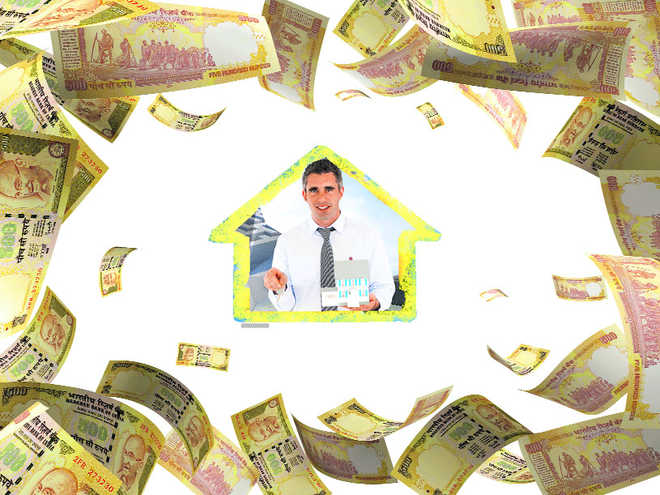 Vinod Behl
The residential real estate that has been undergoing prolonged slowdown has been hit further by demonetisation as prospective homebuyers are waiting for the impending price correction in view of drop in demand besides expected cuts in interest rates. On the other hand, debt-ridden and cash-strapped developers are taking several marketing initiatives to lure home seekers in order to lessen their pain of slowdown.
Price protection
Home seekers, who have of late been taking a back seat in view of the ongoing face off between property developers and homebuyers, have further adopted a 'wait and watch' stance post demonetisation, amidst claims by real estate experts that home prices will take a hit in the coming months. In this backdrop, many developers reeling under downturn and facing cash crunch, are chanting a new marketing mantra of 'Price Protection Assurance, especially in markets like Mumbai & NCR, which are most hit by the slowdown. Under this marketing initiative, big developers of Mumbai like Lodha and Runwal Group and Vatika in Gurgaon, are offering protection to home buyers by way of guarantee of compensation, if home prices go down.
Vatika Shield, besides ensuring zero risk of capital erosion, is also offering the facility to exit after three years with refund. But in view of the fact that builders are offering this scheme for the first time and there is trust deficit between buyers and developers, its efficacy will be on test.
NCR-based Delhi Infratech Limited has come up with 'Book now, pay after three months' offer for its flagship residential luxury project – De Nest. Under this scheme the homebuyers can book a property now and pay just 10 per cent of the total amount after three months
Protection against delays
Considering that in the wake of large scale delivery defaults by developers, homebuyers' money is stuck in projects and prospective buyers are shying away from investing, some developers are now offering protection against delayed delivery. In case of any default in delivery, developers are offering money back guarantee. There are some who are waiving all future demands (EMIs) in case of any casualty of homebuyer.
Morgage marketing
Hit hard by the slow sales, real estate players like affordable housing specialist Xrbia is chanting a motgage marketing mantra. It has come up with a first of its kind of offer of 'No Income Proof Home Loan Scheme' aimed at estimated 400 million people in informal sector who fail to meet income proof requirements of lenders for buying home. Under this marketing scheme, 10,000 prospective homebuyers can reserve 1BHK, costing Rs 7.70 lakh with down payment of just Rs 18,790. Those with annual family income of up to Rs 6 lakh can also avail Rs 2.20 lakh subsidy under the Pradhan Mantri Awas Yojana.
Collaborative approach
Under fire from homebuyers, authorities and courts, post RERA, some developers, especially in NCR, who have been unable to deliver their projects for long, have taken to collaborative approach. In a few cases in Gurgaon and Noida, this 'settlement scheme' has been adopted by authorities and courts.
Under this mechanism, all pending payments by homebuyers are put in specially opened escrow accounts, related to project sales and project development. These escrow accounts are to be strictly monitored to ensure that funds are not diverted by developers and are used only to complete the particular project to which the escrow account belongs. It may be mentioned that many homebuyers had stopped paying their EMIs to developers of delayed projects, fearing that their money could be diverted or misused by the developers. The new escrow mechanism is particularly suitable for those projects where only small development work is pending and are nearing completion.
Tech advantage
In these times of hardship, tech tools are also coming to the aid of developers to market their homes. Premier property portal Magicbricks.com, has recently introduced, what's being touted as India's most advanced property price movement tracker. This first-of-its-kind price flash engine, has come at a time when amidst price volatility, buying and selling has become quite challenging. Making use of advanced algorithms, deep data mining and rich insights, it tracks movement of property prices and helps property buyers to instantly know of any price changes and any good deals available in the market.
Sudhir Pai, CEO, Magicbricks.com, said, "There is a lot of uncertainty regarding property prices post demonetisation, and consumers are confused whether they should take any action or hold their decision for now. However, we believe, on the contrary, demonetisation has opened the market for serious property buyers. This is one of the best times when consumers can negotiate best prices and deals with developers."
"For this, they need to constantly monitor the prices of the properties they are interested in and make their move whenever a great deal comes their way. Also, in the current situation, data and information will drive action as it will bring in transparency, trust and confidence. We believe this can be the greatest and most trusted ally of a buyer or investor in today's circumstances and will be of great value to both," he added.
To help developers and homebuyers in these difficult times when online marketing of homes has already gained acceptability, Facebook has come forward to offer its platform for marketing of homes and developers like Tata Housing has recently made most of this opportunity. In order to ensure that brands make good use of its platform, Facebook has come up with its Blueprint-free creative training modules to create exciting creatives and get an insight into best practices for marketing products.
Beating the slowdown, leading developers like Lodha and Indiabulls who have an inventory of 'Ready for Possession' homes with occupation certificates, are not just able to successfully market their luxury projects in Mumbai, but are also able to command a premium on such projects.