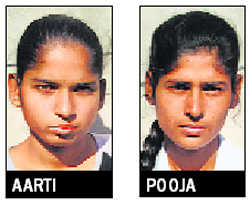 Sunit Dhawan
Tribune News Service
Rohtak, February 17
The reports of lie-detector tests conducted on the complainants and the accused in the alleged molestation-cum-thrashing of two sisters from Sonepat have given a new twist to the case.
Sources say polygraph as well as psychological assessment test (PAT) reports have indicated that the complainants, Pooja and Aarti, concealed facts. On the other hand, the Aasan boys, accused of molestation, have come out relatively clean.
A senior police officer confirmed the reports' findings. The tests were conducted at the Central Forensic Science Laboratory located on the premises of the CBI headquarters in New Delhi.
Rohtak Superintendent of Police Shashank Anand said the reports of the polygraph test and the PAT had been received. A conclusion could be drawn only after considering both the reports in tandem.
Lawyer of the girls, AS Pawar, who had demanded a polygraph test on the complainants as well as the accused, said the tests were not fool-proof and their reports could not be admitted as substantial evidence.
"Moreover, my clients were asked irrelevant and derogatory questions, and we had lodged our objection before SIT authorities," he said. Pooja and Aarti, two sisters of Thana Khurd village in Sonepat district, had accused three boys of Aasan village in Rohtak district of molesting them on board a Haryana Roadways bus on November 28, 2014.
The sisters had also thrashed the boys and lodged an FIR against them.
The boys, who were arrested and then released on bail, had maintained that they had not molested the girls.
Top News
After a wait of over two years, India will have a full-fledg...
Paid price for raising Adani issue: Congress | 'Anti-OBC, fe...
Gandhi, representing Wayanad parliamentary constituency in K...
Congress president Mallikarjun Kharge's son Priyank Kharge w...