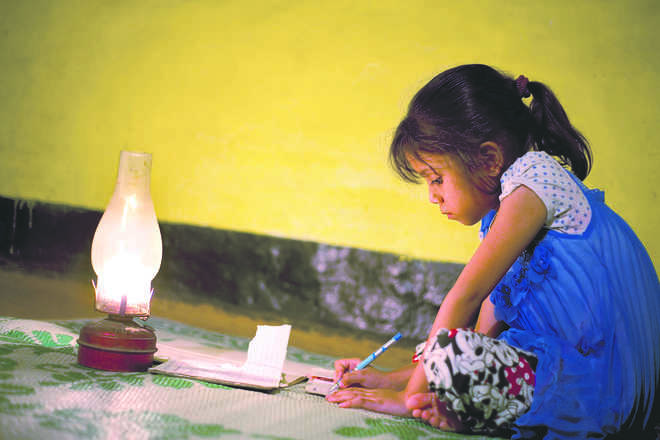 THE Annual Status of Education Report (ASER) is best known for its data on children's reading and arithmetic skills. What is lesser known is that ASER is also a repository of information about kids. In the past two years, two northern states — Punjab and Himachal Pradesh — have added a pre-primary class to their government primary schools. An analysis of ASER data shows why this is not only an appropriate and much-needed step for these states, but also a good example of how the outcome can be effectively used in making decisions for policies and programmes.
For the past decade or so, even in rural India, children have had several choices regarding what they can do before entering formal schooling in Class I, although these choices may be constrained by the location and economic circumstances. Children can attend anganwadis run by the ICDS (Integrated Child Development Services) Department or enter LKG and UKG (kindergarten) in private schools. Despite these options, of course, in many states, there are still some children in each pre-school age group who are not enrolled anywhere and go directly to Class I.
Across the country, private schools usually take in children well before they can be enrolled in Class I. But in most states, the first step into formal education, at least in the government sector, is Class I. An analysis of ASER data points to three reasons why it makes sense to think about including a pre-primary class in primary schools.
Where are young children enrolled? Enrolment data, analysed by age, shows that for Punjab, among three-year-olds, the proportion of kids not enrolled in any kind of pre-school or early childhood centre increased from 24.8 per cent in 2010 to 32.4 per cent in 2016. These figures are much lower for four-year-olds — 11.3 per cent (2010) and 13.3 per cent (2016). The numbers indicate that there is substantial scope in Punjab for anganwadis to reach out to three-year-olds.
However, the proportion of children going to LKG/UKG (which are usually in private schools) has increased considerably in this period for both age groups in Punjab; for three-year-olds from 15.4 per cent in 2010 to 32.8 per cent in 2016, and for four-year-olds from 38 per cent (2010) to 65.3 per cent in 2016. The increasing migration in these age groups to pre-school classes of private schools has been accompanied by a matching decline in anganwadi enrolment, which dropped from 59.8 per cent for three-year-olds in 2010 to 34.8 per cent in 2016. For four-year-olds, this enrolment decreased from 50.7 per cent in 2010 to 21.4 per cent in 2016. As the Punjab trend illustrates, the movement into private schools happens largely well before children reach Class I.
How old are children in Class I? Policy documents in India, including the Right to Education Act, mention six years as the age at which they start formal schooling. However, in many states, including Punjab, the data for age by grade shows that a substantial number of children are in Class I well before they turn six. The age-grade distribution is distinctly different in government schools as compared to the private ones. For example, the age-grade distribution of children in Class I in government schools in Punjab shows that the proportion of children who are 'underage' or below six increased from 35.2 per cent in 2010 to almost 41 per cent in 2016. In private schools, the trend is exactly the opposite. The proportion of underage children was low to begin with at 20.8 per cent in 2010 and it has come down to 15.1 per cent by 2016.
Does the ability to read or do basic arithmetic vary by age in the same grade? Older children in the same grade have an advantage as far as learning is concerned. This is because older children are developmentally more advanced. Older children who have been enrolled in educational institutions have also been exposed to schooling stimuli for a longer duration. Reading and arithmetic data for Class I from ASER shows that until 2016, a much higher proportion of underage children were going to Class I less 'ready' for learning than their older counterparts in Class I in private or government schools.
The decades-long push for universal elementary education has led to a huge demand for schooling even among parents who may not have had much schooling themselves. Until recently, pre-schooling (as opposed to early childhood development centres) was available only in private schools, which offer LKG and UKG as stepping stones to Class I. But private schools could only be accessed by those who had the means to afford the same. With no other options available, poorer families would admit their children in Class I even if they were not yet six. Entering school too early is not an advantage. Typically, the curriculum for Class I has been designed keeping six-year-olds in mind. But by entering school early, underage children are immediately 'at risk' of falling behind academically. With not many mechanisms available within the school system for remedial education or a catch-up, a child who falls behind in Class I is likely to lag throughout his or her entire educational career. Hence, providing the opportunity for pre-school in the primary school itself is potentially an effective instrument for giving a head start to children from economically disadvantaged families and thus levelling the educational playing field. Governments like those in Punjab and Himachal Pradesh must be commended for taking this first and important step towards building a strong base for learning early in the educational life of a child.
Both in terms of policy and practice, a strong partnership between the ICDS Department and the School Education Department is ideal in terms of providing a seamless transition from a holistic child development experience at the age of three and four in an anganwadi to a school-readiness phase at the age of five in the pre-primary class in the government school. Data for three-year-olds and four-year-olds indicates that there is still considerable scope for expanding outreach and enrolment in anganwadis, particularly if that is the first step before entering pre-primary in school. The need of the hour is that the government should ensure and sustain on-site, ongoing mentoring and monitoring outreach to schools, in particular for the newly instituted pre-primary grade, besides strong administrative and political support to the anganwadi and primary school system. If these can be ensured for the next few years, Himachal Pradesh and Punjab are poised to show the country how a strong foundation can be built in the early years of a child's life that can propel him or her successfully through subsequent years of schooling and learning.
The writer is CEO, Pratham Education Foundation