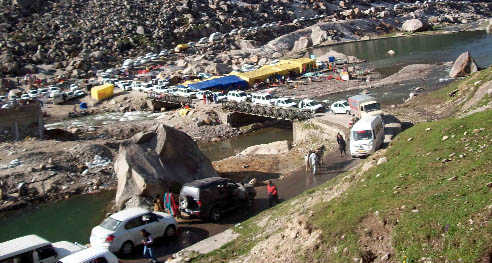 R Sedhuraman
New Delhi, July 7
The National Green Tribunal (NGT) today banned all commercial activities at the Rohtang Pass and stopped horse riding, snow biking, paragliding, tyre-tube gaming and snow scooters at Rohtang, Solang and Marhi.
A six-member Bench, headed by Justice Swatanter Kumar, also issued a show-cause notice to the Himachal Government, holding out the threat of a "complete ban on tourism activity" in the Rohtang Pass and glaciers to check environmental degradation and melting of the glaciers which were receding at the rate of 20 metres a year since 1986.
It also asked the state to explain within a week as to why the NGT should not order the arrest of top officers and attachment of treasury funds for ensuring complete and comprehensive compliance of its directions issued in its February 6, 2014, judgment for checking vehicular and other pollution.
The NGT also identified the officers who have failed to implement its directives. They are the Environment Secretary, Additional Secretary, Science and Technology, Tourism Secretary, Chief Conservator of Forests, Kullu, Transport Secretary, Deputy Commissioner, Kullu, SP, Kullu, SDM, Manali and District Tourism Officer, Manali.
The tribunal said no commercial activity, dhabas, khokas, rehris or any other kind of activity of eating would be allowed at the Rohtang Pass. The dhabas at the pass "shall be removed".
Shops at Marhi would carry on their business activities in terms of the tribunal's directives. "Except water, everything else should be prohibited" in and around the pass, it said.
Citing an experts' status report prepared following a visit to the area, the NGT said heavy increase in the tourist inflow was adversely affecting the glaciers and environment. The report also showed that "Not even a single direction of the tribunal has been complied with, much less in its true spirit and substance."
"The entire snow on the road side from Manali to Rohtang had turned black. The pollution and high emission have even blackened the snow at nearby mountains... The orders of the tribunal are being abused at their will. Prima facie, we have no hesitation in coming to the conclusion that the state has failed to carry out the directions issued by the tribunal," it noted.
"There is a right to tourism, but it has to be within the framework of the Constitution where the fundamental right of the public at large (to life and liberty) in terms of Article 21 has to take precedence," the NGT explained.
Top News
Union sports minister Anurag Thakur puts out a tweet to this...
Says strength of democratic institutions to figure in discus...
Forecasting agencies say the storm has been undergoing 'rapi...
The incident occurs at the Santhaldih railway crossing on Tu...