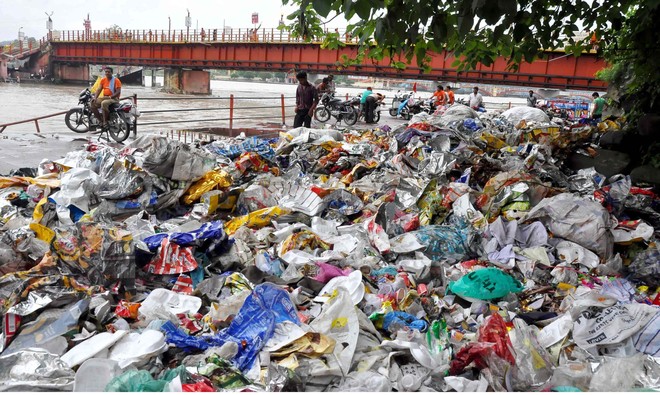 Tribune News Service
Haridwar, July 3
The National Green Tribunal has banned the use of plastic bags in twin pilgrim cities of Haridwar and Rishikesh. The decision will give a boost to the clean Ganga mission.
This is being seen as a maiden stern step towards purifying the Ganga and making these cities world class. Tribunal bench headed by Justice Swatantra Kumar pronounced the prohibition directive in New Delhi stated that usage of polythene has become a hazard not only in Haridwar and Rishikesh city but also along the Ganga ghats.
A minimum fine of Rs 5,000 will be imposed if anyone is found bringing, using or selling the polythene bags or material in the cities.
City Mayor Manoj Garg has welcomed the ban saying that the civic body was about to prohibit polythene in the city. He said the civic body and the district administration had earlier banned the use of polythene in Haridwar. But due to lack of coordination between the district administration and the police, opposition from traders and lack of awareness among people, they didn't yield results, he said.
Notably, The Tribune had two days ago carried a story on polythene ban in Haridwar. Indian Media Centre president Anup Nautiyal has termed the NGT decision as a landmark, but added that not only in Haridwar and Rishikesh but in entire hill state of Uttarakhand this prohibition should be made.
Teerth Maryada Raksha Samiti president Sanjay Chopra expressed happiness over the NGT's directive and said millions of pilgrims and tourists come every year to these cities, such a ban was imperative to ensure cleanliness on the Ganga ghats.
Parmarth Niketan Ashram in Rishikesh has been instrumental in carrying out various cleanliness and environment conservation drives, termed the NGT prohibition as a landmark decision, if it gets strictly implemented.Swami Chidanand Saraswati, spiritual mentor of the ashram, said they would fully support the authorities in ensuring mass awareness among public.
Mukhya Nagar Adhikari Vipra Trivedi cautioned that only directives were not enough but their implementation by the district administration, the Municipal Corporation and the Uttarakhand Pollution Control Board was as imperative as the support from traders and masses.
Top News
Bill provides for reservation of one-third of the seats in t...
Says Canada has provided no specific information regarding H...
Reiterated that there are 'credible allegations' that should...
Rapper Shubh's 'Still Rollin India Tour' was cancelled after...
Sukhdool Singh alias Sukha Duneke, a gangster who escaped to...