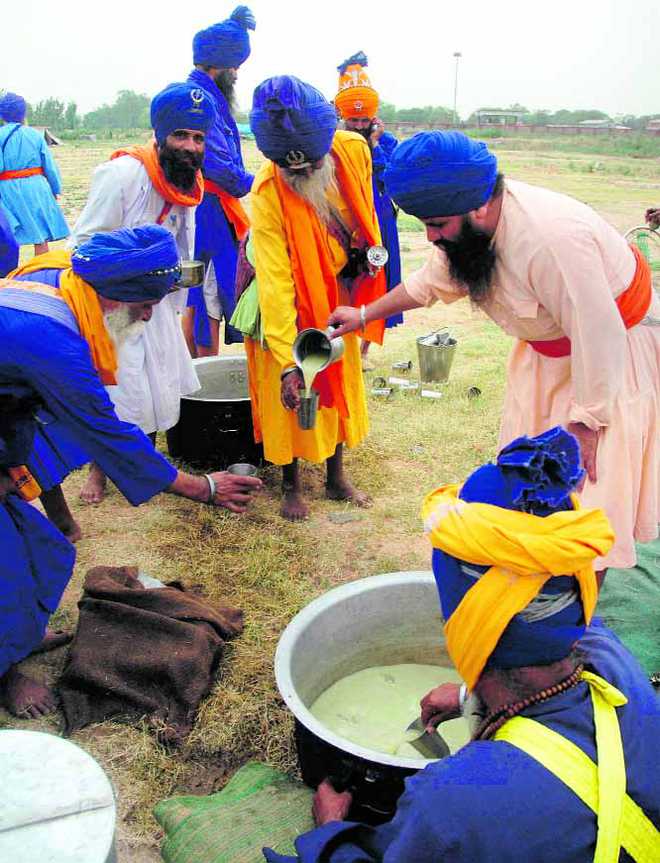 Even warriors have a soft spot: in the case of a section of Nihangs, it is 'panj pattey' (five leaves of the cannabis plant). The self-sacrificing Sikh martial group known as 'Guru Ki Laadli Fauj' (guru's beloved army) has many of its followers who would like to trace the Nihang-bhang association to over three centuries. The green concoction is often seen being dished out to a few such 'warriors' on big occasions of Hola Mohalla, Baisakhi and Maghi Mela. That's about to change.
The Budha Dal and the Tarna Dal, the major Nihang bodies grappling with factional conflicts, have agreed to wean their members off the weed. Manmohan Singh, of the Patiala-based Shiromani Panth Akali Budha Dal (Panjwan Takht), says: "Our Jathedar, Baba Balbir Singh, has a clear message for the addicts: Kick the habit or face the music. Those who ignore counselling and warnings run the risk of being ostracised. But we have to tread cautiously as too many rebels can be hard to handle."
Ironically, Baba Balbir Singh's predecessor Baba Santa Singh and other leaders had rejected a ban on bhang consumption, announced by the Akal Takht in 2001 under its anti-addiction campaign. The late Baba Santa Singh, who was excommunicated for his role in the kar sewa post Operation Bluestar but taken back into the Panthic fold 17 years later, had argued that sukha ('comfort giver') or Shaheedi Degh was steeped in Sikh history and religion.
The Shiromani Panth Akali Tarna Dal (Baba Bakala) agrees that Shaheedi Degh was endorsed by Guru Gobind Singh, but only as a wartime tonic or pain reliever. Their website, tarnadal.com, puts it bluntly: "In today's society, people are abusing these remedies by consuming them on a day-to-day basis, with excess amounts, and justifying it by calling it Maryada. The Tarna Dal can confirm that it's prohibited to be 'high' and intoxicated." This Dal, whose name is derived from the word 'tarun' (young), is encouraging gatka and dastarbandi (turban tying) among the youth through healthy competition.
According to Nidar Singh Nihang, a UK-based Sikh martial arts exponent-teacher, internalising Gurbani and promoting Shastar Vidya are the key to tackling drug abuse among the Dals. "After all, the Nihangs are meant to be fearless, fighting fit warriors of the Guru," he says.
Sikh historian Bobby Singh Bansal, however, doesn't foresee a sea change. "Despite the Takht ban, the beverage usage is rampant. Anything perceived to be associated with traditions is hard to be eliminated altogether."
These legendary daredevils, originally known as Akalis ('the immortals'), have been courting controversy due to their apparent self-indulgence. Will the keepers of the faith be able to turn over a new leaf? Or will they hold on to the 'five old ones'? Their ultimate battle – the inner one -- has well and truly begun.
Bhang or sukha ('comfort giver') was used by warriors across India to deal with injuries and unsteady nerves on the battlefield. It became an integral part of the Nihangs' history of sacrifices in the 18th and 19th centuries.
Following the 1849 annexation of Punjab by the British, the Nihangs were no longer involved in battles. Thus, martial discipline collapsed among some of them, with sukha being taken more as a drug than as a remedy. Sikh Rehat Maryada (code of conduct) forbids the use of all kinds of intoxicants. Bhang, which is not expressly covered under the NDPS Act, is abhorred in Guru Granth Sahib.
Top News
Both resign in what appeared to be a choreographed release o...
Suburban train services affected on the Main and Harbour cor...
Anirudh Tewari posted as Director General, Mahatma Gandhi St...
Odisha tops overall while Himachal secures second place in s...
5 AAP legislators were inducted as ministers on Monday