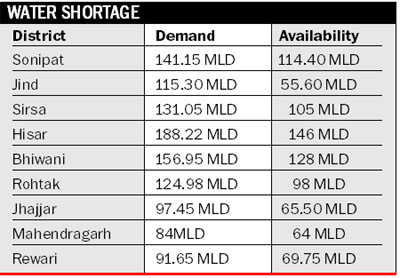 Parvesh Sharma
Tribune News Service
Chandigarh, May 12
The latest figures of the availability and demand of potable water in Haryana show water shortage in nine districts of the state.
Authorities concerned said there was shortage of water supply from the Yamuna. They said the supply had been increased through tankers in water-deficit districts.
As per sources, the overall demand of Haryana is 2,111.37 million litres per day (MLD), including 1,081.66 MLD from the urban side and the remaining from the rural side. But the state authorities have been able to ensure the availability of total 1,913.22 MLD, including 968.86 MLD to the urban side and the remaining 944.36 MLD to the rural side.
The report shows that the demand of water is more in Sonipat, Jind, Sirsa, Hisar, Bhiwani, Rohtak, Jhajjar, Mahendragarh and Rewari districts.
"Many villages in our area are facing acute shortage of water as the supply through canal has been reduced while the groundwater is unfit for consumption. The government must take some immediate steps to ensure the availability of water," said Jaidev Singh, a farmer from Uchana Khurd village of Jind district.
Haryana Public Health Engineering Minister Ghanshyam Saraf confirmed water scarcity in the state. "We are getting a total of 1,400-1,600 cusecs of water from Yamuna against our entitlement of 6,000 cusecs. Out of the received meagre water quantity, we are supplying 500 cusecs to New Delhi and majority of state groundwater is unfit for consumption," the minister said.
He said officials concerned had been asked to ensure that the required number of tankers reach every district. A special district-wise plan had been prepared to ensure water availability, he added.
Top News
Says poor largest segment in country, deserve first right on...
The Canadian allegations regarding India's involvement in th...
30 locations linked to news portal, journalists searched; di...