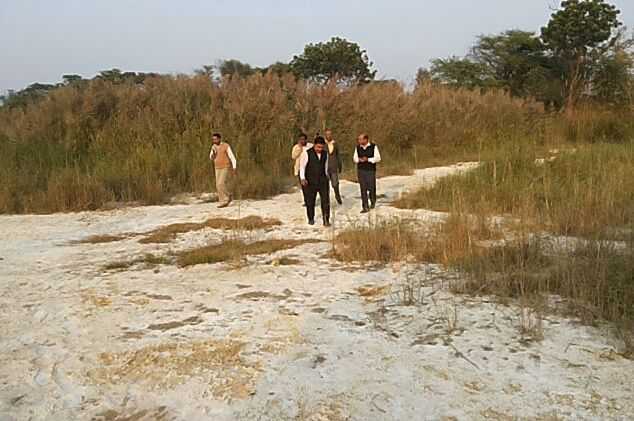 Sushil Manav
Tribune News Service
Fatehabad, January 14
The twin problem of soil salinity and waterlogging is reaching an alarming proportion in Haryana, as around 10 per cent of the state's land has water table less than 3-meter deep.
As per Central Soil Salinity Research Institute (CSSRI), an organisation working under the Indian Council of Agriculture Research (ICAR), nine districts are hit by the problem.
As per Working Group (Natural Resource Management) Report of the Haryana Kisan Aayog (2013), out of 44.21 lakh hectares of area in Haryana, more than 50,000 hectares is having shallow water table of less than 1.5-meter deep, turning it into a waste land.
The extent of salinity in a waterlogged area is 35 to 40 deci Siemens per meter (dS/m) against the normal limit of 2 dS/m.
To put this into perspective, consider the salinity of sea water: 25 dS/m.
An additional 3.8 lakh hectares has water table between 1.5 meter and 3 meter, rendering it potentially waterlogged and saline land. "Most of the existing and potential waterlogged saline soil occur in arid and semi-arid regions in central inland depression basin of the state, encompassing Rohtak, Jhajjar, Bhiwani, Hisar, Sonepat districts and some parts of Jind, Fatehabad, Sirsa and Palwal districts," said Sushil Kamra, a principal scientist at the CSSRI in Karnal.
Rohtak is the worst-hit district in the state with 47.2 per cent of its area (78,694 hectares out of 1,66,777 hectares) falling under "potentially waterlogged category" and 9.9 percent of the area (16,516 hectares) coming under "existing waterlogged and saline" area.
In Jhajjar, 40.5 per cent of its land (75,651 hectares out of 1,86,670 hectares) comes under "potentially waterlogged and saline" category and 6.9 percent (12,980 hectares) of the area suffers from acute salinity. It is followed by Sonepat.
The situation in other six districts, too, is worrisome, though not as acute as in Rohtak, Jhajjar and Sonepat.
What is even worrisome is that the problem is being aggravated by the use of sub-soil water, which is either saline or alkaline in most parts of the state.
As per data compiled from Groundwater Yearbook (2010-2011) of the Central Groundwater Board, groundwater is severally affected by salinity and or alkalinity in districts hit by soil salinity and waterlogging.
"Considering that about two-thirds of Haryana's area is underlain by marginally to severely saline or alkaline groundwater, even partial use of such water for irrigation is going to accentuate soil salinity," Kamra added.