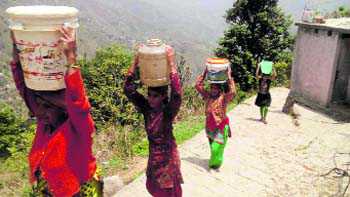 Ajay Ramola
Tribune News Service
Mussoorie, February 23
Residents of Saklana, Athjula, Silwad and Kandi villages in the Jaunpur development block of Tehri Garhwal district will face drinking water shortage as temperatures rise.
The water crisis is nothing new in the region as it happens every summer. Political representatives promise water pumping projects from nearby perennial resources but residents continue to face acute water shortage.
Kandi village residents have been travelling 10 km to fetch water for the past 25 years but the government has failed to provide a solution to the problem. The Kandi water pumping project that could cater to the drinking water needs of more than 40 villages has failed to take off due to non-availability of funds even though three successive chief Ministers had made announcements in this regard.
The situation is grim in the Sadab and Khila Gad region where Chief Minister Harish Rawat had announced a Rs 8.64 crore water pumping project but it was yet to be constructed.
"We are living in misery as we spend our valuable time in fetching water from various khads and springs located several kilometres from our village, especially during the summer," says Surat Rawat, a resident of Sadab village.
Stengal, Dadak, Kotdhar, pathar Khani, Danda Gaon, Jaintwadi and Banali villages in Saklana Patti are facing water shortage that is bound to worsen during the summer. At present, villagers are forced to fetch water from the natural resources at Sarola Khala and Pataal Gadtok situated away from their village, says former zila panchayat vice-president Meera Saklani. Villagers of 23 gram panchayat in Saklana Patti have written to the government for the sanction of the Anand Chowk and Banali water pumping schemes to mitigate the scarcity but their pleas have fallen on deaf ears.
Saklani says Harish Rawat during a programme at Kaddu Khal in October last year had announced that both schemes would be approved at the Cabinet meeting but no project had come up so far. Kempty village is also facing acute water shortage as the population of the area has increased while the water supply has remained the same.
Alok Kumar, Executive Engineer of Pey Jal Nigam, Tehri Garhwal, says Harish Rawat had during a rally in October announced the Banali and Anand Chowk schemes but the department was yet to receive a notification in this regard. "We have received the notification for the Kandi pumping scheme and an estimate of Rs 13 crore has been sent to the government for approval," says Alok Kumar.
Top Stories