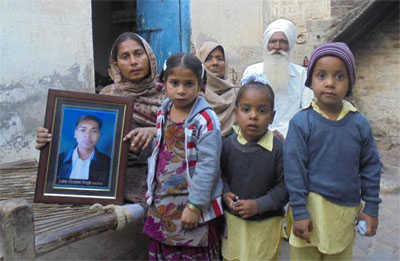 Amaninder Pal
Tribune News Service
Chotiaan (Sangrur), Jan 12
An old gout-ridden woman limps towards a wooden cot; a stone-faced septuagenarian gazes at the ground; there's an untended chullah; three dark, empty rooms; there are "bhog pictures", and there is a deafening silence. No one cries in this house, but no one really speaks too.
Gurjeet Singh's family is not given to lamenting, or complaining — in public, or to each other. They have just gone silent. The pain has perhaps been internalised.
The sound of the slurping wet slippers of Gurjeet's widow, a shy woman in her thirties carrying a cowdung basket, is the only sound audible. And then the dim and occasional chatter of two boys, who jump as they take turns to get themselves clicked along with a portrait of their dead father. "Just wanted to see how our picture looks like," each of them repeats.
Once an "aspiring labourer" who dreamt of turning his family's fortunes with hard work and skills he had learnt over the years while working as a seeri (skilled farm labourer), Gurjeet's dream ended last July. He committed suicide by consuming pesticide in his fields.
Like many farm labourers, Gurjeet wanted to get rid of the debt burden he was under. He had taken land on rent to produce more, and earn more. But the economy of agriculture had other designs.
"He was my only son. Very hardworking and the only breadwinner for our family. He didn't return home that evening," recalls Gurjeet's father Chet Singh, who is in his 70s, as his stone-faced ailing wife looks at her son's picture.
"Our ancestral 1-acre land was not enough to make ends meet. Gurjeet had been taking 4 acres on rent for the past some years. The debt was gradually mounting. We owed Rs 5 lakh to a private moneylender the day he ended his life," he adds.
Chet Singh says the rent of the land was Rs 50,000 per acre and Gurjeet had sown cotton there. "Weeks after Gurjeet's death, whitefly ate up the cotton crop; Rs 14,000 per acre were spent to raise the crop and Rs 8,000 per acre has come as compensation. The debt still stands."
In this locality of Dalits in Chotiaan village, Chet Singh lives with his ailing wife, three grandchildren who are less than eight years old and his daughter-in-law. To tell the truth, he lives by himself, lost in his thoughts.
During his yore years, he would neatly cobble up dozens of juttis (traditional Punjabi footwear). Today, his cobbling kit is lying idle, barely used.
The question as to how he runs the household is a piercing reminder of the harsh reality of life, and it forces Chet Singh to lower his eyes. And I feel more ashamed having asked the question.
"I am over 70," he says, "and my wife can't even walk properly. Do you expect these three kids and my son's widow to run this house? Kuj pension a jandi hai, kuj kanak mil jandi hai (We get a few hundred rupees as old-age pension and subsidised wheat)." Again, sympathy is the last thing on Chet Singh's mind.
Hardeep (5) and Khushdeep (4) seem unaware of the jolt. For them, the portrait is no less than their father himself. It is Harmandeep (8) who has lost all her verve. The cute little girl keeps on biting her nails, but never raises her eyes. Dad's absence has made her go silent.
"She was very chirpy till six months ago. She would involve everyone of us and force us to play with her. Now, she barely speaks, keeps her eyes lowered. This all occurred after my husband's death. I couldn't manage to take her to the doctor," says Gurjeet's widow Baljeet Kaur, who finally decides to open up.
"On that July day, I lost my husband and the cheerful voice of my innocent daughter. I wish life could have been better," she says. And then she stops. That's all she has to say.
Life is anything but beautiful, but there's no lament, no complaint. That's how Gurjeet Singh lived his life. Till, one day, he gave up.
Top News
In April 2016, the then CIC M Sridhar Acharyulu had directed...
The slab constructed on top of an ancient `bawdi' or well co...
He is serving time in a road rage case dating back to 1988
Clashes broke out between two groups in the Kazipara area of...
The govt had earlier given exemption of 2.25 per cent in sta...