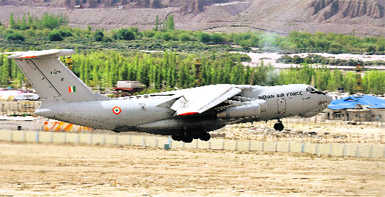 Ajay Banerjee
Tribune News Service
New Delhi, February 8
The Indian Air Force has no plans to vacate the strategically important airbase at Leh in Jammu and Kashmir.
Sources in the Ministry of Defence said neither had any such decision been taken nor was the matter discussed at any platform. Speaking to The Tribune over phone, Leh Deputy Commissioner Prasanna Ramaswamy G confirmed the development: "The IAF will not be vacating the base."
Over the weekend, reports (quoting a press release issued by the J&K government) had emerged that "the IAF has agreed to vacate the airbase at Leh, which would be used for expansion of the civilian airport to promote tourism in Ladakh".
Officials here admitted that a press release had been issued, and that it "conveyed an erroneous impression".
The IAF brass today questioned its officers who attended the civil-military liaison meeting chaired by Divisional Commissioner (Kashmir) Asgar Hassan Samoon last week. The base is used for transporting troops, machines, equipment and ration for the Army during the winter months when both the approach roads via Manali and Srinagar are closed due to snow.
Sources said the IAF had only agreed to vacate some land for the expansion of the terminal at the Kushok Bakula Rimpochee Airport, Leh.
Located at a height of 10,600 feet, the airport is to get a new terminal building to cater to the passenger rush and for the creation of new parking bays for civil aircraft.
The IAF is learnt to have agreed to the demand by the Airports Authority of India (AAI) for requisitioning 11.8 acres of land.
The upgraded facility would accommodate 600 passengers (against 100 at present) and five civilian planes instead of two currently. The expansion project has been hanging fire for the past four years. The land identified for the project belongs to the state government, but it is under the possession of the IAF.
Top News
National capital's 24-hour average air quality index recorde...
The counting of votes will take place on December 7
Spent around 45 minutes with his mother before leaving for t...
Will provide India an opportunity to outline its broad prior...
In his speech at IFFI-2022, Lapid had said he was 'disturbed...