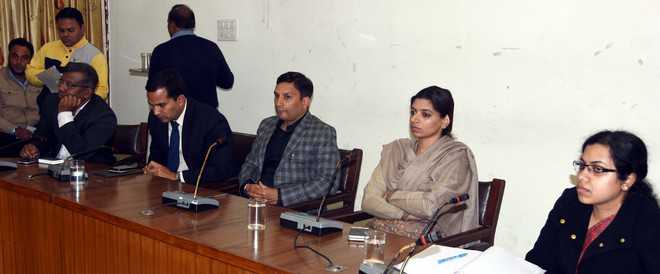 Tribune News Service
Ludhiana, January 2
For the benefit of voters, candidates, election staff as well as the Election Commission of India (ECI), the district administration Ludhiana has developed a mobile application named "ECI360".
Developed by Ludhiana-based IT firm "01 Synergy" on behalf of the district administration and a brainchild of Deputy Commissioner Ravi Bhagat, this mobile app would prove very beneficial for all stakeholders of the upcoming Assembly elections.
A web-based application to be used by ECI, CEO, DEO and RO named "RoNET" has been developed that would specifically enable them to know what exactly they are required to do and when, obviating the need for an additional reporting forum.
A presentation in this regard was held at the Circuit House here today which was attended by Additional Chief Electoral Officer, Punjab, Diprava Lakra, Ludhiana Deputy Commissioner Ravi Bhagat and Jalandhar Deputy Commissioner Kamal Kishore Yadav, along with all Returning Officers.
While appreciating the efforts of Bhagat, the Additional CEO, Punjab, said with the advancement in new-age technology, such mobile apps and network systems can prove very beneficial in the upcoming Assembly elections. He said they would be giving a presentation regarding ECI360 as well as RoNET to the ECI soon and if they approve them, these might be adopted pan India.
DC-cum-District Electoral Officer, Ludhiana, Ravi Bhagat said: "ECI360 has been divided into different sections such as voter, candidate, SVEEP, admin, besides others. It is a mobile app (IOS and Android) to be used by ECI, CEO, DEO, ROs, candidates, political parties, supervisors, PROs, SSPs or COPs, election teams and the media. The ECI360 will help in bringing transparency and accountability regarding elections and voting." The DC said the proposed mobile app will be user friendly, catering and providing an improvement in the efficiency of the current system of elections and would enable real-time reporting when mobile.
Bhagat said RoNET was a web-based application to be used by ECI, CEO, DEO and RO specifically to enable them to know what exactly they are required to do and when; without burdening them with an additional reporting forum. He said it would be a network of backend systems which will link up to a user-friendly front end in the shape of a smart phone app and a web portal. The functionaries tasked with the effective conduct of elections, including the RO, sector officer and subordinates, DEO, CEO and ultimately ECI, will stand to benefit from the solution.
A meeting of all State-Level Master Trainers (SMLTs) and AC-Level Master Trainers (ACMTS) was also held at Bachat Bhawan earlier during the day, where officials were imparted training about postal ballots, besides several other aspects of carrying out a free and fair elections.
Top News