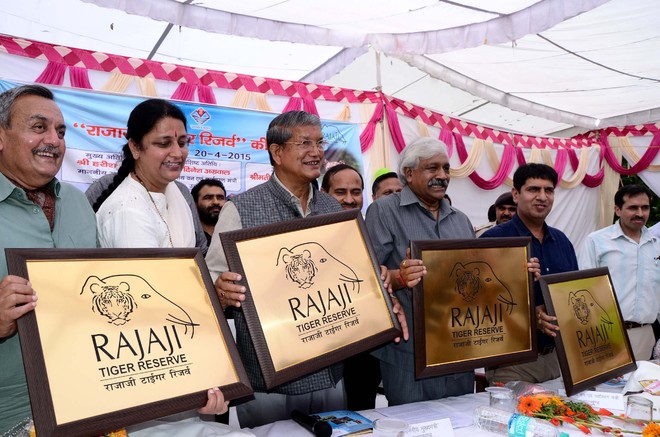 Sandeep Rawat
Tribune News Service
Chila (Pauri), April 20
The world famous Rajaji National Park has been notified as Rajaji Tiger Reserve, making it the second tiger reserve in this small mountain state and the 48th in the country.
Chief Minister Harish Rawat today issued a notification in this regard in the Chila range of Yamkeshwar block in Pauri Garhwal district. He also released the logo of Rajaji Tiger Reserve.
Forest Department officials said the notification of another tiger reserve would attract more tourists and boost the economy of the state.
The Chief Minister said resorts would be developed in the newly formed tiger reserve. He said after Karnataka, Uttarakhand had now the highest number of tigers in the country.
Environment Minister Dinesh Aggarwal, Chief Wildlife Conservator, Forest, Brijendra Singh, Ranvijay Singh, Chila ranger DP Uniyal, Mahamandaleshwar Swami Kailashanand Brahamchari, legislator Pradeep Batra , former legislator Ambrish Kumar, tiger reserve officials, forest officials, employees, environmentalists, tourists and local people were present.
Notably, Rajaji National Park came into existence in 1983. It was named after the last Governor-General of India, C Raj Gopalacharya, popularly known as Rajaji. It is home to 315 bird species, 40 species of reptiles and fish and 400 Asian elephants.
The tiger reserve will have nine ranges, namely Chila, Gohri ,Motichur, Haridwar, Beriwada, Dhaulkhand, Ram Gad, Chilawali and Kansro.
The pockets of Pathri Gujjar colony and the Khandgaon and Gandikhata areas would soon be included in the reserve.