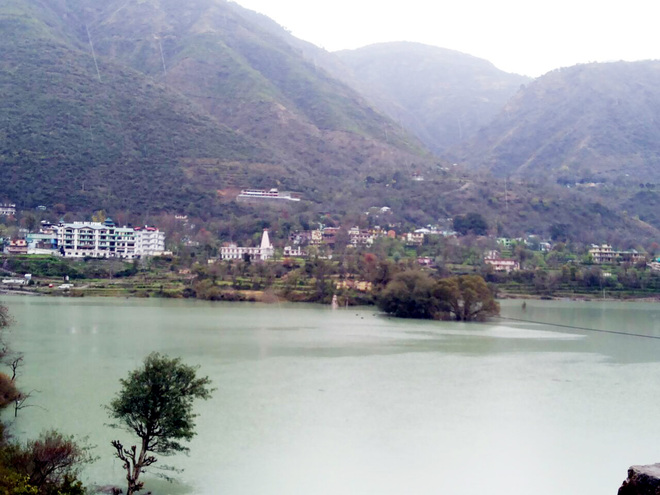 Kuldeep Chauhan
Tribune News Service
Shimla, March 30
After being plagued by cost overrun and a delay of about five years, the National Thermal Power Corporation (NTPC) is set to commission the 800-MW Kol Dam, its first hydropower project, on the Sutlej river in Bilaspur. The project would add another 366.48 million units of electricity every year to the state's power kitty as it would get 12 per cent free power share out of the 3,054 million units of electricity that the project will generate every year. This power would meet the shortage in the northern grid in summers.
The company has tested the grid connectivity and conducted trial runs of its three units recently. It has almost completed the storage of water in its 642-m dam that has completely submerged the legendary hot spring sulfur baths at Tatta Pani forever.
A local entrepreneur, Prem Raina, has already tapped the hot baths in his private resort, while the HPTDC has taken up the matter with NTPC to revive these.
NTPC Chairman A Rai Chaudhary would inspect the project tomorrow and formally announce the final date of the commissioning of the project. The trial run of the three units (200 mw each) has been successful while the testing of the fourth unit is under process, NTPC sources said.
Because of the delay, the project cost has shot up by 30 per cent and the authorities are mulling revising the cost for the second time. The project cost has escalated from Rs 4,527.15 crore in 2010 to Rs 5,640 crore and is expected to be revised once the CMD okays the project.
NTPC spokesperson Praveen Kumar said the water storage level in the 642-m high dam had reached 634 m today and would reach 642 m as the flow in the Sutlej was expected to increase in the days to come.
The NPTC, a thermal power giant public sector company, ran about five years late in its first-ever hydropower project. It cited delay in concrete work and lean inflow of water in the Sutlej river during winters as the reason behind the delay. "The dam is filled at the rate of 0.06 m per day that improved in March and will now go up further in April," the managers said.
AK Nanda, general manager, Kol dam project, said the moment they reached the desired 642 m level, the project would be commissioned.
The NTPC has attributed delays to geological surprises, including seepage which was plugged later, visa problems of Italian and Thai engineers and issues of the oustees who were not satisfied with the rehabilitation and land awards that, in turn, halted the work.
Caption:
A view of the water-filled Kol Dam on the Sutlej. A Tribune photo