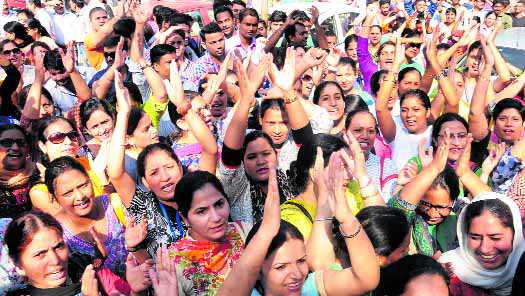 Charu Chhibber
Tribune News Service
Chandigarh, September 2
Even as Union Health Secretary CK Mishra today stated that the PGI had been severely affected by the nurses' strike, the institute authorities continued to claim smooth running of all hospital services.
When a reality check was done, it was found that thousands of patients coming to the PGI today suffered a day of hardships and inconvenience.
A large number of patients, who had turned up at various out-patient departments (OPD) of the hospital this morning for treatment, had to return disappointed in the wake of the nurses' strike.
The worst hit were those admitted to the Emergency and Advanced Trauma Centre (ATC) of the institute as the two areas witnessed scant presence of nursing students of NINE.
"My son suffered a paralytic attack and has been admitted here since last night. Since morning today, a doctor has come once to check on him and gave him medicines. No nurse has come to check him. He has been sleeping. I don't have any update on his condition for the past eight hours. What if he needs a different medicine or a different line of treatment? Who will tell me?" questioned a worried Harpal Kaur.
Banto, a relative of another patient, said her brother had met with an accident. "He was brought here yesterday. He is badly injured. His entire back, arms and right leg are hurt. There is no nurse here to check him. The doctor came just once and told us
he would need to stay here for some days. He gave some injections and medicine, prescribed some tests and vanished. It's been several hours."
This correspondent visited the Emergency and the ATC four times during the day and witnessed the presence of only two nursing students in Hall A of the Emergency, two in Hall C and none in the ATC.
Those who were present were struggling to manage the patient rush along with resident doctors.
"Yesterday, when we were informed about our duty at the Emergency, I was happy that it will be a great learning experience. However, the reality is grossly different. Today was a challenging day, especially because we are just 355, divided in three shifts," said a BSc (Nursing) student of NINE on condition of anonymity.
PGI claims smooth functioning...
"The strike had a minor effect on the day-to-day functioning. The institute administration managed smooth running of all hospital services, including OPD and emergency services, with the help of a contingency plan in hand and assistance from National Institute of Nursing Education (NINE). Despite the strike, the hospital services were managed well."
"Only a few elective surgeries were curtailed in order to focus on the emergency services.
The OPD registration was done as per the usual time from 8 am to 11 am. As many as 8,208 patients registered in for the OPD and approximately 154 were admitted to indoor units. With regard to surgical operations, 75 surgeries were done.
Emergency operations and deliveries were performed," stated the official statement of the PGI.
...but accepts inconvenience to patients, public "Taking an administrative view on the strike and inconvenience being caused to patients and the general public, the PGI administration decided to observe "no work, no pay" for absenteeism."
To hire 150 nurses
"In addition to this, the administration has decided to hire 150 nurses immediately through walk-in interviews," stated an official press note.
Nurses to continue strike
As many as 1,500 nurses of the PGI participated in the indefinite strike on a call of the All-India Government Nurses Federation for getting their pending demands regarding the Seventh Pay Commission met by the Centre.
"We will continue our strike till further communication from the federation," said Lakhwinder Singh, president of the PGI Nurses Welfare Association.
He said in the morning, 300 nurses on probation were threatened by the PGI authorities to come to work or face action.
"They went to duty in the morning but joined the strike within a few hours," he said.