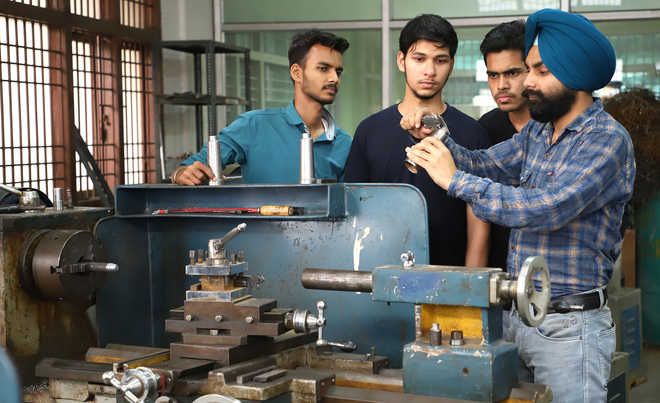 Dr Kalluri Vinayak
There will always be a high demand for engineers in different industries, and it is still one of the most diverse streams of education. However, this is not a field for everyone having non-medical stream in Class XII. And going by the alarming unemployability rate of engineering graduates, it is imperative that students as well as parents ask themselves who should study engineering — is it the right stream for you and would you find joy in pursuing a career as an engineer?
Engineers have the capability to turn products of imagination into real-world innovation. As our needs and knowledge increase, the demands on innovation also increases. This means that the future for engineers will always be filled with opportunities and work.
To ascertain whether this is the right stream for you, you need to look at your skill set and how you'd like to grow it, your personality and things that interest you.
Why one should do engineering
Using creativity to improve the world: An engineer gets to witness the result of his creation making a difference in the world hands-on. When confronted with challenges in the modern life, an engineer needs to employ creativity to come up with practical solutions.
Employability: While the number of students finding jobs after engineering in India is low, graduates proficient in their skills are always in high demand. Even if you decide to not take up core engineering jobs, the skills you develop in this stream make you well sought after in a number of industries. All industries need experts who can come up with creative and innovative solutions.
International options: An engineering degree is one of the few degrees that are equally well sought after across the world. The unique skill set is universally in demand and makes one capable of working in any country.
Well paid: An engineer is ranked among one of the highest paid professionals in the world. According to assessment and talent evaluation company, Aspiring Minds, while salary structures vary across sectors, engineering students in IT services sector earn somewhere between Rs 3 and 4.5 lakh per annum right after graduation. Students with expert core skills often even start between Rs 12-15 lakh per annum. "It depends on the student's competence as to how much will he or she be able to secure in terms of monetary compensation initially," shares Himanshu Aggarwal, CEO, Aspiring Minds.
How to pick the right college and stream
Once you decide to study engineering, the next step is to pick the right stream and the right college. The four years that you will spend studying engineering will help you decide what to do in life.
Choosing the right stream is critical because it's not easy to spend four years studying a branch/specialisation that one is not excited enough about.
Also remember that the world you would graduate in would be different from what it is at the time of joining the course. The needs of society and the jobs we see today may not be there four or five years from now. The future as always is forever evolving and uncertain. Thus, the engineering college that you pick should be the one that prepares you for a world and future that is uncertain.
Largely, engineering degrees are pretty versatile, however, today more than ever there is a need for inter-disciplinary courses. A civil engineer who also has the knowledge of Internet of Things to help develop Smart Cities, a mechanical engineer who is well-skilled in robotics and automation, and so on. We are looking at a world of innovative automation. And a college that will equip you for the future is the right one to pick.
Apart from the streams, you should look at the past student record of a college – how the alumni is placed.
Look at the brand. A college backed by a brand that fosters and encourages innovation will often be educating and preparing students into skilled engineers who can take on the challenges of the future. Also, the legacy of the brand. Between IIT and NIT, one would be recommended to pick IIT. Between a very good private college and a not so good government college, you should pick the private college.
Engineering colleges that tie up with the Industry are often able to provide an experiential learning experience that will help you stand out at the end of four years.
The demographics of the college. Despite the comfort, college is a good time to test one's boundaries. Opting for a new location away from home is often a good idea. "Diversity is a life-long learning."
Things to keep in mind in college
Engineering and innovation go hand in hand. An engineering student who discovers his or her passion during the four years is able to come out successful after graduation. Unlike in school, success as an engineering student won't come only through marks. The most intelligent student does not make the best engineer. The best engineer is one who identifies a problem and is passionate about discovering and developing its solution.
While opting for engineering and picking your college, keep in mind how you'd like to graduate at the end of four years. It'll come down to how different you are from the thousands of other engineers graduating with you.
Inter-disciplinary skill sets
Study courses that enable you to graduate skilled in interdisciplinary specialisations. A computer science engineer, who is proficient in internet of things, has studied negotiation and management, is also able to communicate clearly, will stand out without a doubt from one who only studies computer science engineering.
Research projects
Work with faculty whose research inspires you. In your four years of college pick different professors to work with. Use this opportunity to not only build your resume but also discover more about what motivates you.
Internships
Interning in the industry again adds to your experience, looks good on the resume, but most of all gives you the taste of the job that you might be taking up at the end of four years of engineering. A college that helps you get this industry exposure is already on the path of helping you prepare for the future.
Core projects
While excelling in non-core helps you stand out in a crowd, don't ignore specialising in your core and graduating well skilled in the branch. Use the time in college to collaborate with students in different core subjects in your core projects to stand out.
— The writer is Assistant Dean, School of Engineering and Technology, Munjal University, Gurugram
---
Specialisation vs general streams
Should one choose an engineering programme in one of the "pure" engineering branches like Mechanical, Civil, Electrical, etc., or the new specialised ones like mechatronics, automobile, avionics, etc? This is an easy question: choose the classical general branches. The reason some of these specialised branches are offered at all is AICTE and its strange ways. Somehow, the engineering colleges in the private sector got the impression that it is easier to get permission from AICTE to add seats in newer disciplines than to get increased seats in the existing disciplines. This seems to be the reason of a branch like Information Technology, Instrumentation.
In spite of the slogan that the future belongs to specialisations; the fact is that an undergraduate education should be quite general. An electrical engineer would easily get a job for instrumentation, but an instrumentation engineer would face great difficulty in getting a job in other areas of electrical engineering. Same is true of automobile engineering vis a vis broader mechanical engineering. It is for this reason that most of the older IITs still continue to give degrees in the broad area of electrical engineering rather than in specialisations like electronics, communication, or power engineering.
---
New courses
It's always a good idea to keep future of the engineering in mind when planning. Shift in technologies is also making certain courses important for all, regardless of the branch.
Big Data
Analysing large sets of data to reveal patterns, trends or associations has become a way of life in all industries. An engineer specialising in Big Data is someone proficient in getting results from vast amounts of data quickly, and needless to say quite important in all industries.
Cyber Security
With the large amount of data, securing that online has become a necessary requirement. Not only do governments, military and corporates need to be secured online, but personal information also needs protection.
Smart cities
A civil engineer specialising in Smart Cities will automatically stand out in a crowd. An urban area that uses different internet of things sensors to collect data and then use this to manage resources is a smart city.
Other new courses in engineering include Artificial Intelligence, Robotics and Automation, Virtual Reality, 3D printing, Sustainability, Immersive Architecture among others.
---
Nuclear engineering
This branch involves designing, constructing and operating nuclear reactors besides breaking down of atomic nuclei and other sub-atomic physics. Nuclear engineers are mostly absorbed in research and development organisations, nuclear reactors and power plants that make weapons and war equipment. Some institutes that offer courses in Nuclear Engineering in India are, Jawaharlal Nehru Technological University, PU, CHandigarh, IIT, Madras, IIT, Kanpur, Delhi College of Engineering, MIT, Manipal etc.
---
Oil & Petroleum Engineering
This branch is all about the production and processing of products like gasoline, diesel, heating oil from crude oil. Petroleum engineers' work profile involves designing equipment and processes to achieve the maximum profitable recovery of oil and gas. They also work with geologists to determine the drilling methods to be used and monitor drilling and production operations. UPES Dehradun, Pandit Deen Dayal Petroleum University, Gujarat; ISM Dhanbad are some of the institutes offering this course.
---
Leather technology
BTech course in leather technology deals with synthesis, production and refining of leather to make commercial goods like footwear, clothing, gloves, belts, wallets, luggage, bags, upholstery including automobiles and sports goods. Graduate engineers can work in the leather and allied industries in production, quality control, research, management and marketing too. Govt. College of Engg. & Leather Tech., Kolkata; College of Engg & Management, Kapurthala, Harcourt Butler Technological Inst., Kanpur are some of the institutes offering this course.
Architecture
Students with PCM in Class XII and with a flair for designing and good drawing skills can also apply for Bachelor of Architecture course. This 5-year technical course involves training on the process of construction of commercial buildings, malls, complexes, highways and civil construction. Key skills required in this course are drawing skills, analytical skills and constructing skills. he students can get admission in B. Arch. by appearing in NATA entrance exam which is conducted by Council of Architecture every year and qualifying examination from a recognized university or board. After completing this course, a student can join government departments, buildrs or start one's own firm.
Some of the key institutes in the region are:
Chandigarh College of Architecture - [CCA]
Chandigarh University - [CU], Chandigarh
Chitkara University
Lovely Professional University - [LPU], Jalandhar
Guru Nanak Dev University - [GNDU], Amritsar
Maharaja Ranjit Singh Punjab Technical University -[MRSPTU], Bathinda
---
Region's best
Thapar University, Patiala
Estd: 1956
Website: www.thapar.edu
IIT, Ropar
Estd: 2008
Website: www.iitrpr.ac.in
PEC, Chandigarh
Estd: 1953
Website: http://www.pec.ac.in
IIT, Mandi
Estd: 2009
Website: http://www.iitmandi.ac.in
University Institute of Engineering (UIE), Chandigarh University
Website: www.chandigarhuniversity.ac.in
GND Engineering College, Ludhiana
Website: www.gndec.ac.in/
BML Munjal University, Gurgaon
Estd.: 2014
https://www.bml.edu.in
Ch. Devi Lal State Institute of Engineering & Technology, Sirsa
Estd. :2003.
www.cdlsiet.ac.in
UPES, Dehradun
Estd: 2003
Website: www.upes.ac.in
Lovely Professional University (LPU), Jalandhar
Website: www.lpu.in
Sant Longowal Institute of
Engineering and Technology,
Longowal, Sangrur
Website: www.sliet.ac.in
Maharishi Markandeshwar University Trust, Mullana (Ambala)
Website: www.mmumullana.org
Deenbandhu Chhotu Ram
University of Science and
Technology, Murthal
Estd: 2006
Website: www.dcrustm.org
Punjab Technical University Giani Zail Singh Campus, Bathinda
Website: www.gzscetbti.gov.in
University Institute of Engineering & Technology (UIET), KU
Website: www.uietkuk.org
NIT, Hamirpur
Estd: 1986
Website: http/ www.nith.ac.in
---
NIRF Ranking 2019
Top 10 Institutes
Indian Institute of Technology Madras
Indian Institute of Technology Delhi
Indian Institute of Technology Bombay
Indian Institute of Technology Kharagpur
Indian Institute of Technology Kanpur
Indian Institute of Technology Roorkee
Indian Institute of Technology Guwahati
Indian Institute of Technology Hyderabad
Anna University, Chennai
National Institute of Technology, Thiruchirappalli
Top News
The decision amounts to creating a parallel jurisdiction, ta...
The school authorities immediately alerted police, which rea...
'In Punjab, Rs 11 is considered a 'shagun', so I am announci...
Bhardwaj said the Board does not calculate, declare or infor...