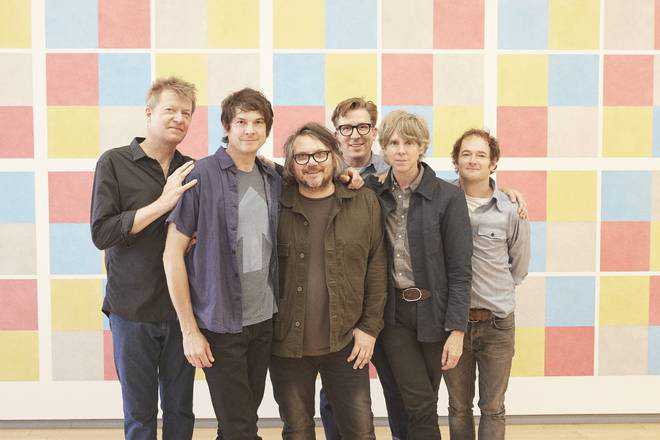 Saurabh Chadha
Album of the month
An echo of current times
Wilco — Ode to Joy (dBpm)
Over the past 25 years, the band has released 10 albums with many side projects. Each album has had its own distinctive soundscape, and for their 11th studio album, Ode to Joy, Jeff Tweedy and company borrow the title from Beethoven (the rousing final movement of Ninth Symphony), for an optimistic theme that echoes our current times. Acoustic instruments and subtle vocals win over thundering guitars and anthem rock choruses here. Ode to Joy opens with an exhausted drumbeat on Bright Leaves, to which vocalist Jeff Tweedy soon adds some sombre and passive vocals. The tune is reminiscent of Wilco's Red-Eyed and Blue from 1992's Being There. The next in the line is Before Us, a gloomy reflection on the fact that we live in a time of never-ending wars in Afghanistan and beyond that reaches the predictable conclusion, "Now when something's dead / We try to kill it again." Right from the initial tracks, Drummer Glenn Kotche's propulsive drums set an arranged pace for the rest of the band to follow. The graceful sentiment that is conveyed on White Wooden Cross forms the loveliest moment on the album. Tweedy's faint voice wonders, "What would I do if the white wooden cross meant that I'd lost you." While on Everyone Hides, Kotche drives an infectious beat and memorable melody, on the lead single Love is Everywhere (Beware), an upbeat guitar explores the joy and threat of love. The aptly titled, Quiet Amplifier is full of atmosphere that revels in calm conflict, making for some of the most pleasing textures the band have produced in years. Ode to Joy flourishes on subtle guitar melodies and splendid production.
Essential track: Bright Leaves, Before Us, White Wooden Cross, We Were Lucky
Rating * * * *
---
A triumphant comeback
Angel Olsen — All Mirrors (Jagjaguwar)
Three years after the overwhelming success of her breakout album, My Woman, Angel Olsen returns with the stirring All Mirrors, the latest citations of the acclaimed songwriter's life. Opening up with the gloriously atmospheric single, Lark, Olsen sets the tone, weaving through pounding drums, dropping strings in an awe-inspiring level of production. Olsen recorded two different versions of All Mirrors. First, she went to Anacortes, Washington, and recorded a stark solo-acoustic album. Then she took the same set of songs to producer John Congleton, and recorded them with orchestral arranger Jherek Bischoff, the soundtrack composer Ben Babbitt, and an 11-piece string ensemble. The Anacortes recording is set to be released next year.
Flourishing with cinematic strings and held by overarching sentiments, the album is a powerful progression for Olsen. Eternally compelling, Tonight builds slowly with the strings and vocal melody as she sings, "I like the air that I breathe. I like the thoughts that I think. I like the life that I lead without you, without you, without you, without you." She graces her sound with varied layers as she mines Blues, Smooth Jazz, Country and Classic Pop in time-shifting patches. Ambient tracks like Endgame and Impasse draw attention to her exquisite balance of lyrical precision and musical diversity. Miracles happen where voice and strings unite, infused with the power of Ella Fitzgerald and Doris Day. The electro-acoustic spinner Summer's impressionistic flourishes blend brilliantly with the Beatles-esque slow rocker Spring. On New Love Cassette, cello strings fiercely rip across a soothing keyboard wave for a dramatic result. A record of great emotional depth and essence.
Essential track: Lark, All Mirrors, Summer, Spring
Rating * * *
---
An eclectic return
Girl Band — The Talkies (Rough Trade)
The successor to 2015's Holding Hands With Jamie, Girl Band's follow-up The Talkies, opens with Prolix, as lead singer Dara Kiely pants and gasps for air. The sophomore effort sees the band take on more experimental challenges; giving their return a more eclectic and assorted feel. The restless, lengthy siren howl of Akineton serves to keep the listener on edge. Couch Combover steals the spotlight on The Talkies, displaying everything Girl Band do best, with Kiely's ferocious hefty vocal contorting over mangled guitars. Daniel Fox's bass is employed more than ever, providing the beat and pulse to Adam Faulkner's unbelievably primitive setting of pace. Aibohphobia and Amygdala serves as brief opportunities for the band to spread their overwhelming energy.
Interestingly, the video for the first single, Shoulderblades was directed by long-time collaborator Bob Gallagher whose previous work with the band won him Best Irish Music Video at the Cork Film Festival and a nomination for best director at the 2016 Berlin Music Video awards. Prefab Castle allows the listener to move with the abstract moments of harsh breakdowns, while Salmon of Knowledge is a slow-paced track, creating a hypnotic and restful atmosphere. Closer Ereignis finds composure with Kiely's breath yet again. The track fizzles out after just over a minute of what comes across as an improvised version of Prolix. Listening with headphones is highly recommended.
Essential track: Prefab Castle, Couch Combover, Prolix, Shoulderblades
Rating * * *
---
Top 10 Singles
Truth Hurts - Lizzo (NM)
Senorita - Shawn Mendes & Camila Cabello (NM)
Someone You Loved - Lewis Capaldi (CU)
Circles - Post Melone (NE)
Ran$om - Lil Tecca (FD)
Bad Guy - Billie Eilish (FD)
Old Town Road - Lil Nas X feat. Billy Ray Cyrus (FD)
No Guidance - Chris Brown feat. Drake (NM)
Sunflower - Post Melone & Swae Lee (CU)
Intro - DaBaby (NE)
Legend: CU): Climbing Up (FD): Falling Down (NM): Non-mover (NE): New Entry
Top Stories