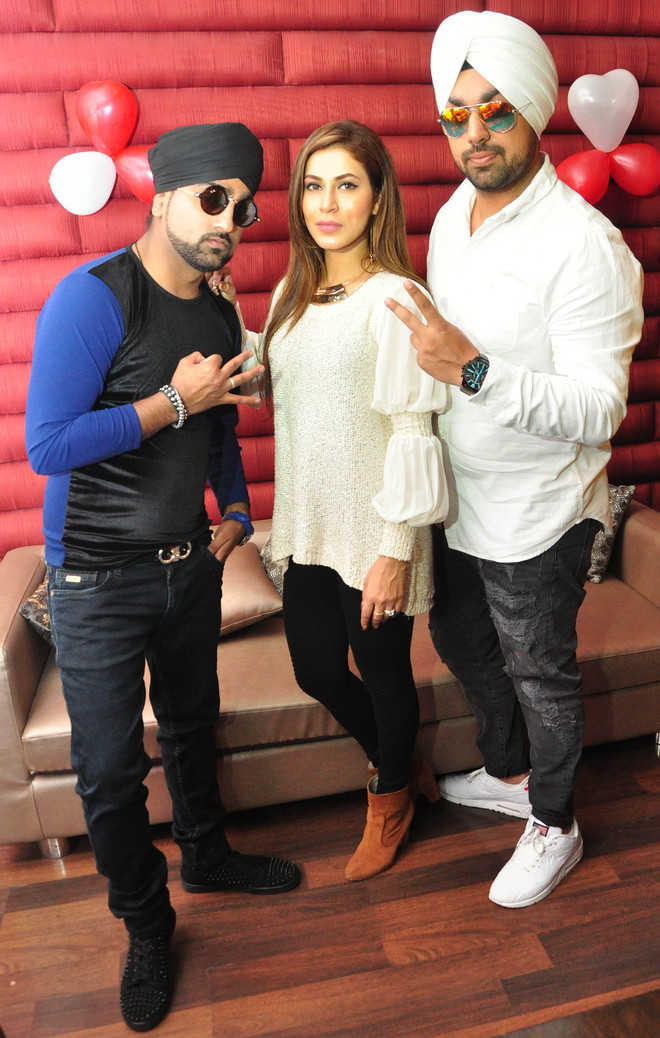 Mona
Deep Money and NS Chauhan met three months back and got along like house on fire. Result: Famous RDB's NS and Deep of Dope Shope fame have already worked on some five tracks together, and are raring to do more. "It's like we are brothers by birth, only born in different continents," opens up Deep, in Chandigarh on Sunday, to promote his latest song Neeli Neeli Aankhen, with NS keeping him company.
It being a Valentine's Sunday, the mall was chock-a-block and this dynamic duo made enough noise by singing not only Dope Shope but also Aloo Chaat along with Neeli Neeli Aankhen.
'A love ballad' is how Deep describes his first major Hindi number that has been backed by T-Series. Shot in Kishangarh, marble city of Rajasthan, the song has beautiful Mansha Bahl who duly accompanied the team. "You will soon see me with NS Chauhan in a lot of my Hindi numbers, we are a team now and we want to bust the myth that turbaned Punjabis can only give Punjabi numbers to Bollywood," says Deep who wants to make his debut with a Hindi film. Why not Pollywood, we ask, "I already have Punjab's love behind me, I would now want to open a channel to promote local talent so that they can work in Bollywood as well."
NS and Deep, together have worked on Saadi Gali 3 and their upcoming songs are Daru (predictable) and Kharku (unpredictable). "Don't go by words, I am all for experimentation, and I would want to give songs in different genres and themes." Innovation is what keeps you alive believes Deep, happy as Neeli Neeli Aankhen's youtube likes inch towards six lakhs and has some dislikes too. "In order to learn you have to be open to criticism. Had this someone special not told me that I cannot sing for the next 50 years, probably I wouldn't have put this much hard work into the game," says this trained classical singer who is hoping to churn out some classical and Sufi tracks soon.
This duo can't have enough of each other, while NS is sold on Deep's humility; Deep is yet to see, 'a singer cum lyricist' as fine as NS. And, together they insist that you watch their latest single while you wait for more…
Respect, period!
Why objectify women in every video? Deep Money promoting his latest Neeli Neeli Aankhen, answers, "My songs spring from real life so there is both good, and the bad. I wouldn't even dream of insulting a woman for I am given this life by one. In fact, I share all my songs with my team as well as my family. Only if they give a go ahead, the song reaches the listeners."
mona@tribunemail.com