Snowmass, Aspen Highlands, Aspen Mountain and Buttermilk — are the four mountains in Aspen, Colorado, which lure with the promise of hiking, camping, disc golf, biking, skiing and more. Greenhorns keen to learn the winter sport will find Buttermilk an ideal spot to hire gear and the expertise of a ski instructor, quite a steal between $30 and $60. Alternatively, schedule a session of mountain top yoga at 11,212 feet.
One ski pass is valid on all four mountain summits from where the 360 degree view of Maroon Bells Mountain, the one spot claiming to be the most photographed in all of North America, is popular even with the locals. To catch these exhilarating vistas, grab the amazing bargain of unlimited rides on the four mountain lifts and gondolas with a lunch voucher thrown in for Elk Camp, along with a guided bus tour to Maroon Bells and lake. The hiking trails on Maroon Bells are treacherous, however, and should not be attempted without a guide. Catch your breath and a bite at Sundeck at the summit of Aspen Mountain or the famous not to be missed apr`E8s at the base at Ajax Tavern or pack a picnic. Post-skiing apr`E8s is taken very seriously by locals and visitors; its late night revelry legendary.
Aspen as we know it today was founded by Elizabeth and Walter Paepcke, a visionary couple that helped create a community. Summer hunting grounds for the Ute Indians, the silver mining boom of the 1870s saw white settlers flock here; a law demonetising silver then had them move out in search of employment.
From left: Aspen's picturesque landscape is a treat for the eyes; and a view from below the Aspen grove Photos by the writer
To know more prominent Aspenites, take a walking/electric coach tour (costs $25 for two hours) conducted by the Aspen Historical Society to get a feel of their contributions and the architecture. Jerome B. Wheeler set up the Wheeler Opera House and also built Hotel Jerome in 1889; its J-bar continues the legacy of serving 'Aspen Crud', made famous during the prohibition era, a unique milkshake infused with liquor that's been the staple of soldiers training here during the Second World War. The Opera House brought international performances to town and continues to be a prominent venue.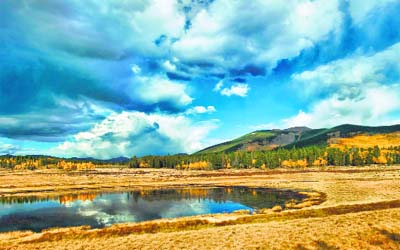 The Aspen wetland
Like most mining towns, Aspen has its share of horrific deaths in deep dark dungeons, tales of greed and coveting. Ghosts abound in Aspen and neighbouring towns Ashcroft and Independence, and if it tickles your fancy, take a walking tour to discover the darker side of history where ghosts talk to you. Reason enough for Mrs Wheeler not to move here despite a mansion constructed for her. The unoccupied residence is now the Wheeler Stallard Museum displaying a 17th century home on the first floor and an exhibition space on the second.
Aspen Art Museum (entry free) is housed in the former Holy Cross Power Plant on the banks of the Roaring Fork River. Opened in 1979, a hotbed of creativity, it has a new address at the corner of Spring Street and Hyman Avenue. Keep an eye out for art present in store windows and subterranean spaces. Visit the Holden Marolt Mining and Ranching Museum. Depending on your interests, you can also catch the Aspen Film fest, the ACES Harvest party, music fests, art auctions, ballet, John Denver Sanctuary walk (some of his songs are etched into stone), hike the Smuggler or Hunter Creek trail, Saturday classical music at the top of Aspen Mountain, the Food and Wine Classic annual or the Saturday market for fresh locally grown produce, pastries, pottery and jewellery.
Don't miss the tree shrines in the mountains. Completely non-traditional, they may include laminated photographs on tree trunks along with other memorabilia, dedicated to singers, musicians, actors, golfers, the cartoon character Snoopy even. Be sure to visit with your favourite amongst Elvis, Jimi Hendrix, Sinatra, John Denver and Marilyn Monroe, the latter being the only woman honoured with a shrine for the longest time, an eccentric act of a red bra pinned below her picture.
Champagne sabering in the St Regis hotel is a time honoured tradition. Check ahead for the timings and savour a unique technique, alongside the Champagne. Chef Nobu's heirloom tomatoes in Matsuhisa Aspen are mouth watering. For a patisserie moment and their eggs Benedict, visit Main Street Bakery and Caf`E9. The city, its people, food and culture blend luxury and simplicity beautifully giving visitors a truly memorable experience.
Fact facts
Getting there: From the east coast of USA, connecting flights from New York and Chicago; from the west coast, connections from San Francisco.
Best season: The best time to visit may be summer, for obvious reasons. Aspen turns into a photographer's delight in fall as the colours change. Spring ushers in a riot of wild flowers. If crowds are not your thing, pick fall or spring to interact more with the locals and a slower pace of life, one reminiscent of the good ole days.
What to do there: Go for the Aspen film fest, harvest party, music fests, art auctions, ballet, John Denver sanctuary walk, hike the Smuggler or Hunter creek trail. Also check out the Saturday market for fresh, locally grown produce, pastries, pottery and jewellery.
Top News
In Mizoram, Zoram People's Movement is locked in close race ...
According to Defence Ministry, 98 per cent of the total proc...
India has constituted a probe team to investigate allegation...
Nikhil Gupta, 52, has been charged with murder-for-hire in c...
GDP growth in the first quarter of current fiscal — April-Ju...