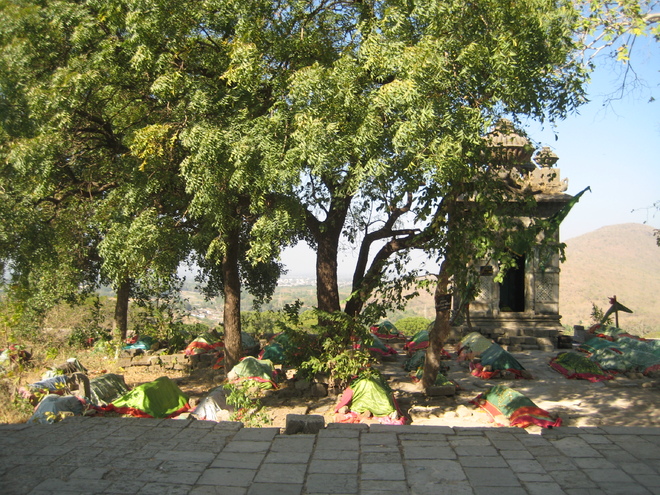 Amarjot Kaur
While embarking on a rather unusual journey across India, with a budget under Rs 500 a day, Saurav Jha and Devapriya Roy, who authored a book titled The Heat and Dust Project, share that their book chronicles more than just their expedition. At the book launch in Chandigarh, they elaborate on the thought that prompted the inception of the book.
"This book came about because we are bad householders and were stuck in nine to five jobs! We wanted move away from our comfort zone," says Devapriya. Saurav resorts to detailing on the core theme of the book, "We deliberated on not making this book read like a travelogue. It is more on the lines of exploring yourself as a traveller, as a person, and even as a partner with changing situations and places."
Broke, but brave
While Saurav Jha and Devapriya Roy wax eloquent about contents of their book, they share that travelling with limited funds was quite a challenge that put their relationship to test. "I look at this experience as anti-honeymoon," quips Devapriya while adding that most couples undertake a journey to experience luxury and theirs was nothing sort of an adventure. "We came back exhausted and with so many stories to tell, but then, money can buy love eventually! However, this expedition put our relation to a test. We saw a very different side of India that we otherwise would never have experienced, especially if we stayed in fancy hotels and visited tourist spots. It has consolidated our bond," says Saurav.
The couple avers that they have come a long way through this journey that acquainted them with the ground reality of India. "Also, we wanted to experience this because we needed a break from the mundane, as we both come from big cities. We were born and brought up in Kolkata and are now based out of Delhi," they share.
Pleasant surprise
As he quotes his most memorable experience through this rather eccentric journey, Saurav confesses that he is a foodie and what better than being invited for a free dinner when you only have Rs 500 to spare each day. However, Saurav's Santa arrived during summer in Barmer, Rajasthan, on an auto-rickshaw instead of a sleigh! "So, this guy makes money out of renting spaces and drives an auto only to meet new people. And while he was showing us around the city, he invited us for dinner, which I savoured to my heart's content," says Saurav.
Memory bank
As she goes down the memory lane, Devapriya Roy is instantly reminded of her sojourn at Paharganj, Delhi, which is infamous for its cheap hotels, robberies and still witnesses a heavy footfall of European tourists. "We met these twins, Motty and Zvika Hillel, from Israel, who were travelling during their gap-year. We met in Jaisalmer, then in Jodhpur and we finally hung out with them in Paharganj," says Devapriya. She adds that at Paharganj, she found a series of bookshops that sold second-hand books, which are rare and brought by travellers who visited the place. "I love them! Besides, you will also find beggars begging in Hebrew in Paharganj, which is quite a sight," she smiles.
Spot on
When we ask Devapriya and Saurav of the places that they would recommend from their journey, Devapriya roots for Orchha in Madhya Pradesh and Saurav suggests Junagarh, Gujarat. But these two refuse to leave you high and dry, so they drop in good news and it's not what you are 'expecting', literally. "So, the Heat and Dust Project is the first part of the trilogy and we are coming up with the second edition, titled Man Woman Road, next year," they sign off.
amarjot@tribunemail.com
Top News
AAP wins 134 of 250 wards, BJP 104; Congress reduced to just...
BJP thanks people for 'recognising' its work, making it vict...
Moosewala's parents had stated that people from music indust...
Terming the Indian economy a bright spot in the otherwise gl...
'Zelenskiy's success as a wartime leader has relied on the f...