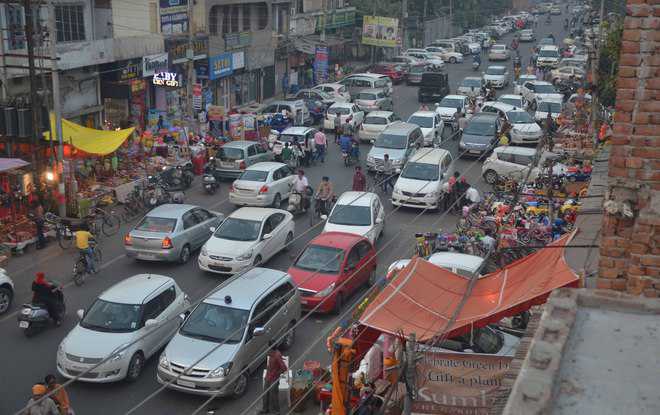 Shivani Bhakoo
Tribune News Service
Ludhiana, October 28
If the data available with the District Transport Office (DTO) is to be believed, then there are as many as 24,08,107 vehicles registered with the department till August 3, which is the highest in Punjab. If the population of the district is to be believed (as per the census conducted in 2011), which is approximately 20 lakh, then on an average, one person in the district has got at least one vehicle. This has increased the level of pollution and traffic congestion.
The data available with the DTO reveals that the total registered number of three-wheelers in the district is 39,565. The number of motor cab/taxis is 4,851. The number of heavy transport vehicles is 16,498, while there are about 17,559 medium transport vehicles. The number of light transport vehicles is 1,80,699. The number of buses registered in Ludhiana is 6,291. There are as many as 31,6945 four-wheelers (LMV/car/jeep) and 18,25,699 two-wheelers.
One of the officials of the Transport Department said this was the latest data which was provided to the police. "The data has been recorded from 2000 to August 31, 2016. The number of vehicles has increased drastically which will definitely add to the pollution level and traffic congestion. If the city has to become 'smart', authorities need to tackle with the problem of traffic congestion which is on the priority list of residents," said the official.
Rahul Verma, member, Road Safety Council, Punjab, said this was a serious issue. Earlier, it took two months to complete a series (registration of vehicles) but now one series was completed in just 15 days and 10,000 vehicles were added in each series, he said.
"The government should provide improved public transport, so that the residents adopt public transport. Parents provide vehicles to their wards without taking age into consideration. It is dangerous. Under-age driving should be stopped to improve the system. Those who do not carry driving licenses get away with a nominal final. Instead, they should be strictly punished instead. If vehicles are added with this speed, it will cause trouble in future," said Verma.
Top News
Two other associates, carrying bounty on their heads by the ...
The survey says Yadavs are the largest in terms of populatio...
The Nobel Peace Prize will be announced Friday and the econo...
Harpal Randhawa, the owner of RioZim, a diversified mining c...
Though declared a 'personal visit', it comes at a time when ...