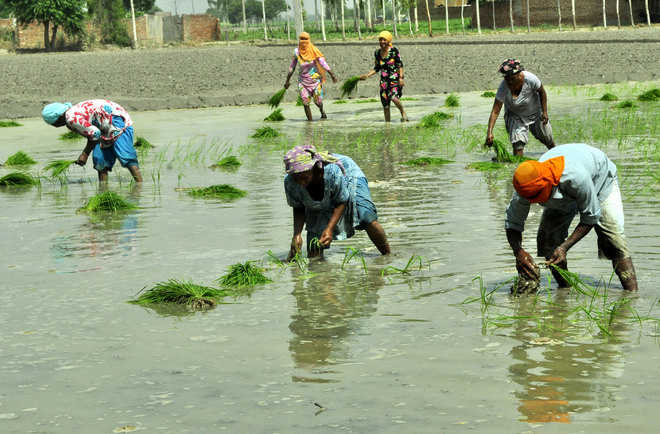 Aman Sood
Tribune News Service
Patiala, June 14
Even as the paddy sowing season begins tomorrow, farmers are facing a shortage of migrant labourers. They are also skeptical of eight-hour power supply, despite assurances by the Punjab State Power Corporation Limited (PSPCL).
The paddy season is also a litmus test for the government, which is facing flak for the poor purchase arrangements during the wheat procurement season.
"We are hopeful that ample power followed by smooth procurement season for paddy will help us regain our vote bank in the farming community", said a SAD leader preferring anonymity. "However, a good monsoon and fair price for the paddy is what we all look forward to", he stated.
Farmers in the state are still waiting for migrants from Bihar and Uttar Pradesh to sow and harvest nearly 25 lakh hectares of paddy in Punjab.
"There are chances that the area under paddy cultivation might further increase despite the fact that the state government is promoting maize cultivation by providing subsidy at the maize seeds", said an agriculture department official.
The prevalent rate for migrant labour at present is Rs 2,200 to Rs 2,300 per acre in addition to tea, 50 kg firewood and liquor in the evening. "Once it rains, the rates would go higher as farmers want to get paddy transplanted at the earliest", claimed Jujhar Singh, a Baghrian village landlord.
Meanwhile, opium, bhang, ganja and country- made liquor are still the favourite baits for farmers lure labourers.