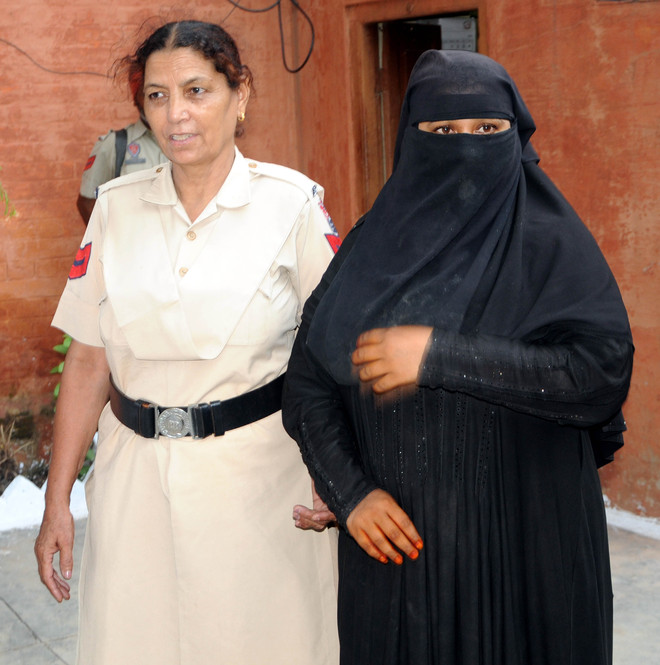 PK Jaiswar
Tribune News Service
Amritsar, August 2
Pakistani woman Chand Khan alias Fojia, who was held travelling on the Samjhauta Express without valid documents, was today remanded in police custody for five more days. Many heads are likely to roll in the investigations being carried out various agencies, including immigration, Customs, BSF and Intelligence.
The Government Railway Police today produced her before duty magistrate seeking the extension of custody to probe the matter as they were yet to ascertain how she managed to board the train without valid documents.
Dharminder Kalyan, SHO, GRP police station, said they would scrutinise the CCTV footage again, besides going through all records. He said the GRP had sought the help of the Customs Department to contact Pakistani authorities to ascertain how she managed to board the highly sensitive train without valid documents.
Chand Khan, wife of Salman Khan of Karachi, was arrested by the GRP from Jalandhar late on Friday night.
The incident has raised many an eyebrow as it was a major lapse on part of various agencies active at the Attari railway station that too at a time when there is high alert in the country following the terrorist attack in Dinanagar on July 27.
She was caught by the railway authorities while travelling on Samjhauta Express which started its journey for Delhi from Attari railway station around 8.15 pm. She could not produce tickets and visa documents regarding her journey to India before the travelling ticket examiner (TTE). She was later handed over to the GRP, Jalandhar, and brought to Amritsar the next day.
Chand Khan had claimed that her passport and tickets were with her maternal uncle Rashid Khan who had alighted at Attari railway station for getting water. However, she could not give satisfactory answers to the queries.
Surinder Singh Sodhi, IG, GRP, said there seemed to be a major lapse on part of immigration authorities at Attari and it should be investigated so that such instance were not repeated. Immigration authorities have also launched a probe in this regard, it is learnt.