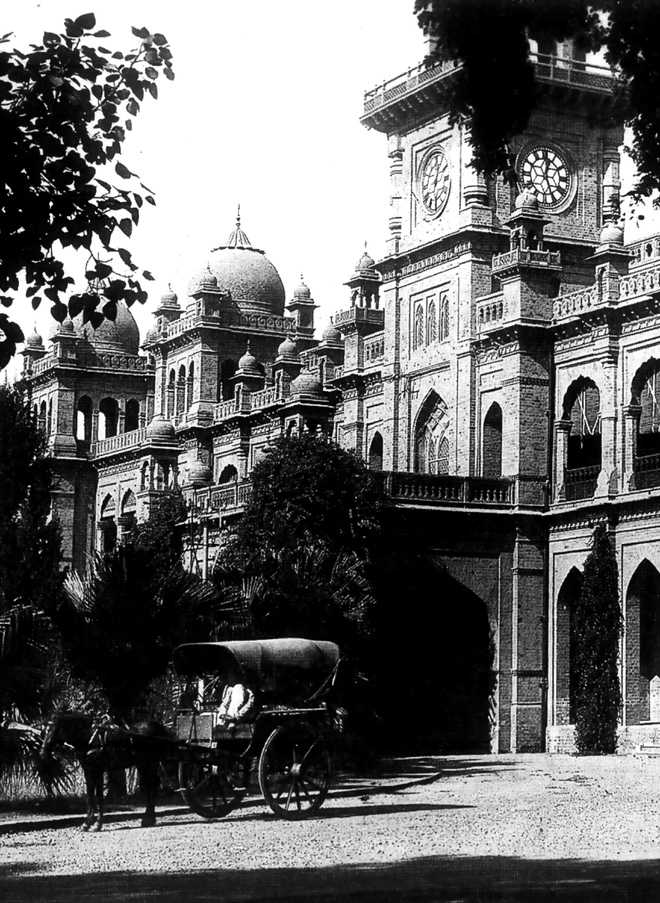 Chaman Lal
The University of Punjab at Lahore was set up on October 14, 1882. It was the fourth university of India although it was the first university that expanded its scope from being an examining university to teaching and examining both. Preceding it were the University of Calcutta (set up on January 24, 1857), the University of Bombay (July 24, 1857) and University of Madras (September 5, 1857).
The evolution of higher education in India is interesting. Till 1904, all universities had their own statutes. Thereafter, all five universities (the aforementioned four and Allahabad University (established November 16, 1889) were brought under the Indian Universities Act VIII of 1904. Many features still continue with all these five universities. These include elected Senate and Syndicates in these institutions. Till 1947, the British established in India 496 colleges and 21 universities, the last one being Sagar University in 1946.
At present, there are more than 750 universities, including private, deemed ones and more than 35,000 colleges in divided part of India. If Pakistan and Bangladeshi institutions are counted, it might cross 1,000 universities and 50,000 plus colleges!
Birth of an institution
It was the setting up of a Government College in Lahore on January 1, 1864, as part of the British scheme of expanding higher education in India that eventually led to the establishment of Punjab University. The college was housed in Dhyan Singh Haveli. It was renamed Lahore University College by 1869, and thereafter became Punjab University College, Lahore. There was a systematic campaign to upgrade the college to university for 13 long years before the University of the Punjab came about on October 14, 1882.
In between, the Oriental College, Lahore, was set up in 1870. It focussed on Indian languages like Sanskrit, Arabic, Persian, Punjabi, Hindi. Gurmukhi was recognised by Oriental College as early as in 1877 and Punjabi (Gurmukhi) department was opened in Oriental College in 1879. It was renamed Punjabi Language and Culture Department after Partition. The Hindi department has been functioning in the college since 1983.
Punjab Governor Sir Charles Umpherston Aitchison was appointed the first Chancellor of the university. He appointed Sir James Bradwood Lyall as the first Vice-Chancellor. He was succeeded by Sir Baden Henry Powell.
Gottlieb Wilhelm Leitner, Professor of Arabic at King's College London, was named the first Principal of Panjab University College. He later took over as the first Registrar of University of the Punjab in 1882 and contributed immensely to the university's development.
Set up in 1875, Mahindra College, Patiala, was the university's first affiliate college. St. Stephen's College, Delhi, was established in 1881.
Distinguished Punjabis became the first Fellows/Senators of the university. They included Maharaja Ranbir Singh of Kashmir, Maharaja Rajinder Singh of Patiala, Raja Hira Singh of Nabha, Raja Jagatjit Singh of Kapurthala, Raja Raghbir Singh of Jind, Nawab Mohd. Siddique Khan of Bahawalpur, Nawab Ibrahim Khan of Malerkotla, Raja Bikram Singh of Faridkot, Munshi Hukam Chand and Sodhi Hukam Singh among others.
It took a quarter of a century for the first Indian Vice-Chancellor, Sir P C Chatterjee, to be appointed in 1907. Dr Umar Hayat Malik took over as the first Vice-Chancellor in September 1947 at Lahore in post-Partition period. Punjab University, Lahore, as it was popularly known, catered the vast area in pre-Partition India. Apart from the undivided Punjab, which was a huge state, it also covered the Delhi region till 1922, Jammu and Kashmir, Baluchistan, North-West Frontier Province (NWFP), now known as Pakhtunwa in Pakistan, till 1947.
It is sometimes believed that the University of Lahore was spelled as 'Punjab' and it changed to 'Panjab' in Chandigarh to differentiate! This, however, is not true. Both spellings are in use in pre-Partition Punjab University records.
In times of trauma
After Partition, Punjab University went through traumatic times, particularly in East Punjab, the Indian part of Punjab. It was agreed at the time of Partition that examinations will be conducted by the University of the Punjab, Lahore, on both sides. For this purpose, Registrar (Examinations) of the University Madan Gopal Singh, who was in India at the time of Partition, travelled to Lahore from Shimla, leaving a note for eminent artist Krishan Khanna's father — 'See you when I get back, that is, if I get back'! He was murdered by his personal assistant in his office in the university!
Progressive economist Professor Brij Narayan, who was the head of the economics department and wrote on 'Sufferings of Peasants', had opted to stay back in Lahore. He too was similarly murdered in his office.
The long shadow of hatred destroyed the University of Lahore's humanist tradition and the nascent government in East Punjab was compelled to bring an ordinance to set up East Punjab University on September 27, 1947, which came into existence on October 1, 1947. Sir Chandu Lal Trivedi, Governor of East Punjab, became its first Chancellor. The administrative offices of the university were set up in a camp in Shimla. Justice Teja Singh was appointed Honorary Vice-Chancellor of the university from February 8, 1948 till March 31, 1949, when he was appointed first Chief Justice of Pepsu High Court. The first convocation of the university was held on March 5, 1949, in the presence of Deputy Prime Minister Vallabhbhai Patel. Justice Teja Singh was succeeded by G C Chatterjee for four months and then Dewan Anand Kumar for eight years, followed by the legendary Amar Chand Joshi for another eight years. Since 2016, economist Dr. Zaffar Mueen Nasir has been heading the PU Lahore as Vice-Chancellor while scientist Prof. Arun Kumar Grover has been the Vice-Chancellor of PU Chandigarh since 2012.
Both universities have expanded a lot since their inception. Punjab University, Lahore, has now five campuses — two in Lahore and three outside Lahore-Gujranwala, Jhelum and Khanaspur. Its original location Government College, Lahore, has now turned into a full-fledged research-oriented university named as Government College University, Lahore.
The Indian odyssey
PU administrative offices shifted to cantonment in Solan after 1947. The departments were also located in various places — Department of Chemical Engineering was located in Delhi Polytechnic, Delhi; Botany, Zoology and Chemistry departments started in Khalsa College Amritsar, so was Punjabi department agriculture college was also set up at Amritsar. Government College, Hoshiarpur, took care of many PG departments like economics, English, zoology, before all departments finally shifted to the present campus of Panjab University at Chandigarh by 1960.
Despite scoring almost equal to central universities like JNU, Hyderabad, Delhi University in academic world in rankings, Panjab University at Chandigarh is being given a step-motherly treatment by both the state and central governments. The Punjab Government has literally stopped contributing its 40 per cent budgetary share to the university since long and even the reduced meagre 8 per cent is not being paid by it. The central government, which is taking care of 92 per cent of university's financial needs, keeps choking it of funds due to political reasons as it is not directly controlled by the MHRD.
Role in freedom struggle
During the freedom struggle, Punjab University Lahore, played a brilliant role. From the calendar of 1932, one reads the Senate proceedings relating to October 8, 1930, an incident in DAV College, Lahore, when the police entered the campus and beat up a professor and some students in his classroom. The context was: on October 7, the Lahore Conspiracy case tribunal had announced its verdict — committing Bhagat Singh, Sukhdev and Rajguru to gallows. Protests by students and teachers in Lahore was natural and the police tried to suppress these by entering the classrooms on October 8. Condemning the police act, the University of Punjab Senate protested and passed a strongly worded resolution that without the Principal's consent, the police couldn't enter the campus!
A forgotten legacy
Sadly Panjab University, Chandigarh, has not even put any plaques in the university in memory of Prof. M G Singh, Prof. Brij Narain, who became victims of Partition-induced hatred and were assassinated in their offices in PU, Lahore, nor about Bhagat Singh's comrade Prem Dutt Verma, who taught in Panjab University, Chandigarh, after his release from jail.
The Lahore website of the university proudly claims Pakistani scientist Abdus Salam and Indian scientist Hargobind Khurana as its alumni Nobel laureates of 1968 and 1979 with photographs and brief biographies. The Chandigarh website does not even mention Hargobind Khurana.
— The writer is a retired Professor from JNU, New Delhi, and Fellow of Panjab University Chandigarh
Top News
In Delhi, Congress puts up a stage outside Mahatma Gandhi's ...
Congress observing day-long 'Sankalp Satyagraha' at Delhi's ...
Says Rahul Gandhi's disqualification culmination of lawful p...
Indian Ambassador to the US Taranjit Singh Sandhu was not in...
Seeks explanation for 'security breach'