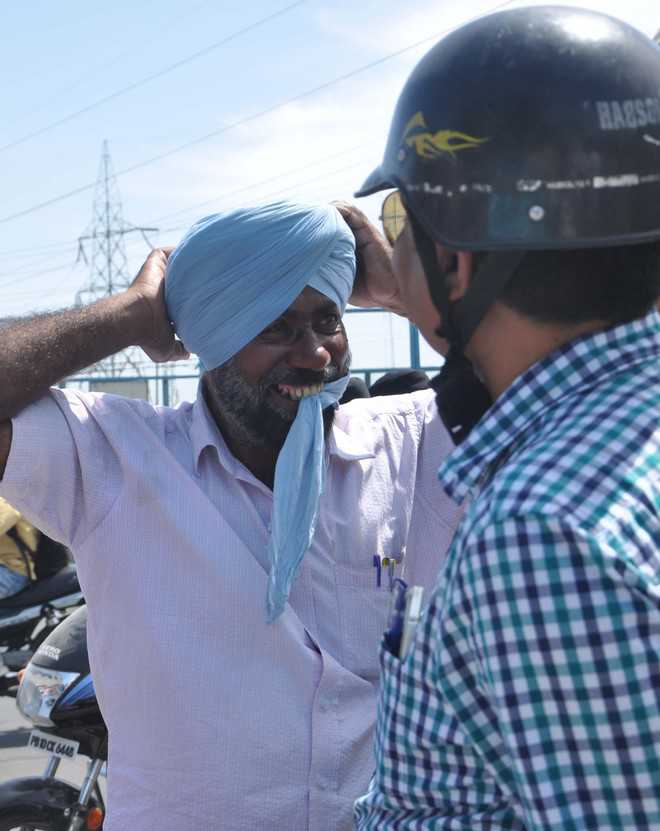 Charanjit Singh Teja
Tribune News Service
Ludhiana, April 14
A Sikh man, displaying an example of heart-warming humanity and unusual courage, set aside religious protocol to save a drowning man with his turban.
Today, on the Hindu festival of Ashtmi, a person, identified as Satish Kumar, along with his wife and son, was immdersing "khetri" and other "pooja samagari" in Sidhwan Canal near Verka Bridge. When the man was immersing the "khetri" in the canal, he slipped and fell into the canal. As the canal is quite deep and the flow was strong, the man started drowning. His wife tried to save him by offering her dupatta, but he was unable to catch hold of it. The wife was pleading for help to save her husband.
A number of other residents, who were there to immerse "khetri", gathered on the banks of the canal. When most of the spectators had lost hope of his survival, a 55-year-old commuter, identified as Satnam Singh, happened to pass by. He found that the man's wife and child were crying desperately for help.
Without wasting time, Satnam Singh removed his turban and tied a stone on one of its corners. He threw the turban in water and asked the man to hold it. Fortunately, the man caught hold of the turban and Satnam Singh dragged him out of the canal.
The man and his family thanked Satnam Singh for saving the latter's life. They were so shaken by the man's close shave with death that they refused to share any details about the family with the media. The residents appreciated Satnam Singh for his selfless act. Satnam Singh said being a human being, it was his duty. "The turban is a gift of our Gurus and I am happy that I have used this precious gift to save the life of a stranger."
Top News
Police say the deceased — believed to be two families of Ind...
Jail officials say the formalities of the release are being ...
Karan says happy to see father coming out of jail, last 10 m...
Internet connection remains suspended even as the prohibitor...
Will also take part in the ongoing Combined Commanders' Conf...