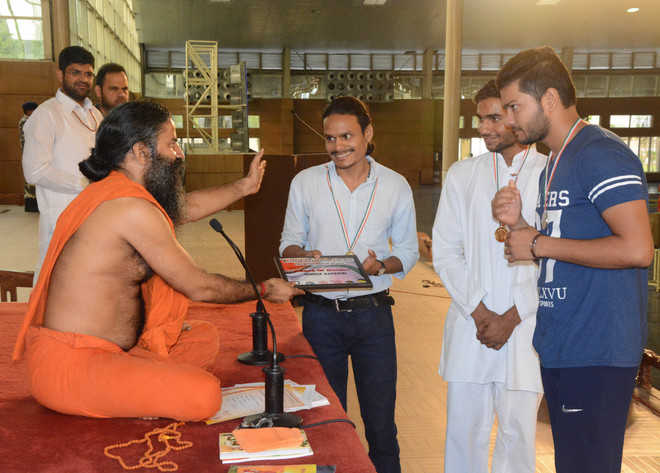 Tribune News Service
Haridwar, September 26
Patanjali Ayurvedic University students showcased their prowess in various events of the Uttarakhand State Jump Rope Championship, organised by the Ministry of Youth Affairs and Sports, in Dehradun yesterday.
Sandeep Manik Puri was adjudged winner in the 25-35 age group event, bagging gold medal. In the 17-21 age group, Vinay Kumar won gold. Saurabh Nain and Saumitra Mishra won silver and bronze medals, respectively.
Welcoming the medal winners today at Patanjali Yogpeeth, Yog Guru Swami Ramdev said students are future of our country and it bodes well that they are indulging in various co-curricular activities apart from basic education.
Swami Ramdev voiced for inculcating moral values. "Without this, no education can be called complete. That's why ancient Vedic form and Gurukul mode of education is highly successful," he said.
Acharya Balkrishna, Vice Chancellor of Patanjali Ayurvedic University, said one's sporting skills can be enhanced through yoga and meditation.