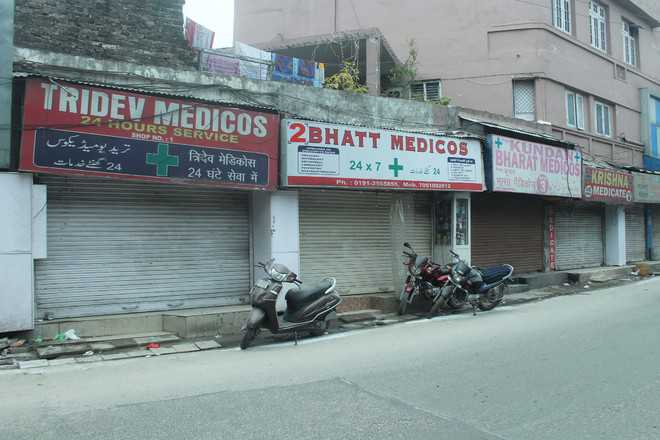 Tribune News Service
Jammu, February 2
More than 1,000 chemist shops remained closed in the city and district today as the Jammu Chemist Association has called for strike till Saturday.
The chemists' association alleged that the health department of the state government had allowed non-state subjects to open shops inside all the district hospitals and Government Medical College of the Jammu region.
"The department has accepted the tenders of a non-state subject, which is against the law. We feel this was purely done in lieu of exchange of favours," said Naveen Bali, president, Jammu Chemist Association.
"Initially we have called for a 72-hour bandh to lodge our protest. But if the government does not take back its illegal step, we may intensify our agitation," he added.
He said the government had issued tender to a Delhi-based person to open 57 chemist shops at different government hospitals in the Jammu region.
"About 1,000 shops in Jammu city and many others in the district remained closed today and all the district chemists have extended their support to the bandh call," Bali said.
The Chamber of Commerce and Industries, Jammu, has also extended support to the chemists' association.
Meanwhile, patients and their attendants were seen wandering here and there for buying medicines.
"It was very shocking that chemists have gone on a strike. I have been looking for an opened chemist shop to buy some medicine," said Danish Mahajan, a local resident.
"I don't know what exactly is the matter between the government and chemists, but it is the moral responsibility of the government to sort out the issue and insure that people get medicines at the chemist shops," he added.