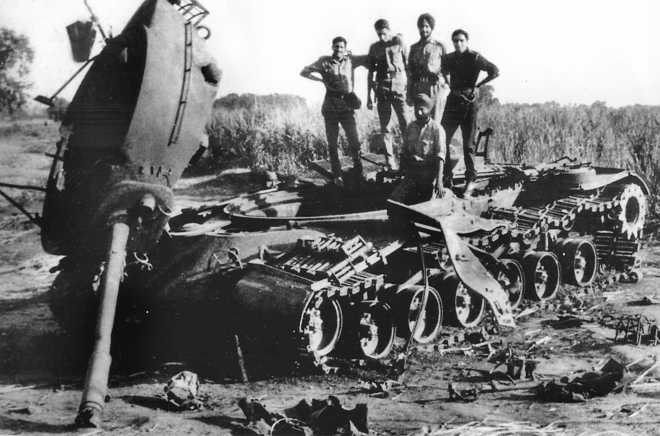 Maj-Gen G. S. Jamwal (retd)
My boys had watered the fields before using anti-tank guns to hit the fleet of Pakistani tanks, which were stuck in muddy fields and were nothing more than sitting ducks for us. The battle of Asal Uttar had created a 'graveyard' of Pakistan's tanks near Khem Karan.
But frankly, we were not ready for a war after the conflict with China and perhaps that is why Pakistan attacked us. The war was well planned by Pakistan, firstly by diverting the attention of Indian Army to J&K to deal with the infiltrators followed by an attack on Jammu via Chhamb, so that the Indian Army's entire attention was diverted towards J&K or up to Gurdaspur so that Pakistan could launch a major offensive from Khem Karan on Delhi.
I was moving my battalion 1 JAK Rifles from Nagaland to Assam when I was suddenly asked to take over 9 JAK Rifles in Khem Karan in the Asal Uttar area.
Although my battalion, as all other battalions involved in the attack, had suffered heavily yet their morale was not low. My battalion had lost 52 men (killed), 50 were taken as PoWs and 85 others were wounded and evacuated. Despite the loss of one-third of my battalion yet the remaining men were ready for another attack.
We knew we were weak in the Amritsar-Lahore front southward, without knowing that Pakistan was planning to launch a major offensive against us in that sector with two Brigades — 7 and 62 of the 4 Mountain Division when we attacked their main attacking force. Had we not opened Amritsar-Lahore front, we could have lost Akhnoor and even Samba.
Pakistan was surprised and totally confused by it and committed many mistakes, which formed its graveyard in Patton Nagar.
Lt Gen Joginder Singh Dhillon had smashed the Pakistani armour, poised to head for Beas bridge and then onto Delhi, in the opening days of war. That's how the Battle Honour of Asal Uttar was awarded to us.
The tank battle in Khem Karan still remains the largest and the most intense tank battles in military history between the World War II and 1965. Close to a thousand tanks, on both sides, took part in the pitched battles and offensives. We captured nearly 100 Pakistani tanks, damaged as well as functional tanks.
Despite odds, we did fairly well in 21-day long war imposed on us. Yes, Pakistan had come very close to Akhnoor and they thought that we won't expand beyond J&K but they were taken aback when we opened Amritsar-Lahore front on September 5, that too, with only one corps.
I get sad when I recall some bitter memories in the aftermath of the war. Many commanding officers and a Brigade Commander were sacked hastily after the war.
Pakistan had sent hundreds of infiltrators into J&K with a misconception that population of J&K would support it. "But the people didn't support them. So, they targeted Akhnoor on September 1 under Operation Grand Slam with an aim of relieving pressure from the Uri-Poonch sector, where Hajipir operations had upset Pakistan.
However, I wonder why post-Tashkent talks, India returned Hajipir and Chhamb to Pakistan.
Maj Gen ZC Bakshi was the architect of our victory but then we returned Hajipir Pass, Chhamb, Point 13620 that dominated Kargil town and many other strategically important areas. I still wonder why.
(As told to Ravi Krishnan Khajuria)
— The writer participated in the Battle of Asal Uttar
---
Read more in '50 Years of 1965 War' special: