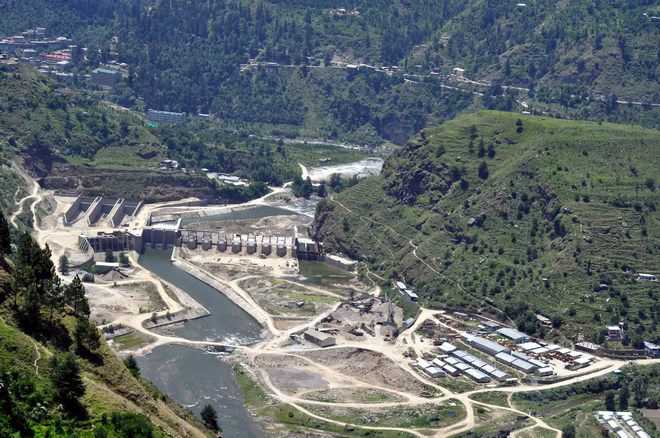 Kuldeep Chauhan
TribuneNewsService
Shimla, April 1
The National Green Tribunal (NGT) has directed the Himachal Power Corporation Ltd (HPCL) to assess and pay damages to Thana villagers within 90 days. The tribunal has also ordered the plugging of the 424 m additional Adit tunnel with concrete after the 111 MW Sawra-Kuddu project is complete.
Disposing of the complaint filed by project affected villagers of gram panchayat Thana in Jubbal, the NGT ordered that the HPCL with the help of a senior scientist of the Central Ground Water Authority would survey the project site to prepare the revival plan for dried up natural springs or aquifer zones by providing adequate rain water harvesting system within 60 days.
The HPCL will execute this revival plan expeditiously in 90 days, said the NGT order passed on March 23.
Besides, the NGT further ruled that a team comprising senior representatives of the Central Institute of Mining and Fuel Research (CIMFR), the Council of Scientific and Industrial Research (CSIR), Dhanbad, the HPPWD and the HPCL will survey Thana village and inspect the properties, plants, houses, etc, and submit its report to the HPCL, which will pay the damages.
The state government will take necessary measures for checking soil erosion in the slip zone of the project site by adopting suitable technology through its department of soil conservation, ruled the NGT.
The HPCL will carry out the blasting in the Adit tunnel in the presence of a representative from the CIMFR-CSIR till its final construction. This tunnel will be plugged with concrete once the project is complete, the NGT ordered.
The HPCL will review the criminal cases filed against the Thana villagers during agitation against the tunnel and recommend its withdrawal to the state government in accordance with the law. The NGT restrained the villagers to obstruct the project work. The HPCL is executing the project on the Pabbar river in the Jubbal valley in the district.
Govind Chitaranta, representative of Thana panchayat, had moved the NGT last year pleading that the additional Adit or approach tunnel to the 11.36-km-long head race tunnel of Sawra Kuddu project had no environmental clearance. The blasting had resulted in cracks in the houses in Thana village which is located right above the site.
Besides, the tunneling has resulted in drying up of the springs and soil erosion and had damaged the apple orchards in the area, the Thana panchayat had pleaded.
Top News
Protesters were trying to move towards the new Parliament bu...
Traffic jams on routes to Anand Vihar and other adjoining ar...
Termed the act as 'shame on the government'
Twenty one Opposition parties skipped the event protesting t...
He said the new Parliament building was the perfect example ...