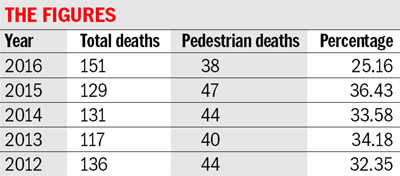 Amit Sharma
Tribune News Service
Chandigarh, January 5
Accidents claim precious lives on city roads. However, what is more alarming is that a large number of those falling prey to road accidents are pedestrians. During the past five years, road accidents claimed 664 lives of which 213 were pedestrians, who accounted for 32.07 per cent of the total deaths.
The threat of accidents is looming large not just on people walking on city roads, but also on those who use the public transport.
In 2016, 38 pedestrians were among the 151 persons who lost their lives in road accidents. They accounted for 25.16 per cent of the total deaths in road accidents.
The figures were less than the previous year when 47 pedestrians died in road accidents. The statistics of the road accident deaths in the past five years reveal that the percentage of pedestrian deaths has remained between 32 and 37 per cent.
To spread road safety awareness among the general public, the UT traffic police have been taking various measures for different segments of road users, including pedestrians. However, all that has turned out to be of little help.
Harman Sidhu, president of Arrive Safe, an NGO that works for the cause of road safety, said pedestrian paths were being reduced to facilitate the growing traffic. "Earlier, pedestrians utilised cycle tracks, but these days even these have been encroached upon by motorists, making these unsafe both for pedestrians and cyclists," Sidhu said.
The police analysis of the accidents involving pedestrians reveals that a majority of the accidents take place when pedestrians are crossing the road. "Pedestrians need to be cautious while crossing the road," said an official. Police investigations reveal that in a large number of the cases, the erring motorists flee from the spot after hitting the pedestrian, leaving the victim to die on the road.
Top News
Isaac Herzog seeks India's help in release of hostages held ...
TMC MP can be expelled only if the House votes in favour of ...
PM Netanyahu says Hamas did not release all women hostages a...
The decision amounts to creating a parallel jurisdiction, ta...
Prime Minister says Green Credits Initiative surpasses comme...