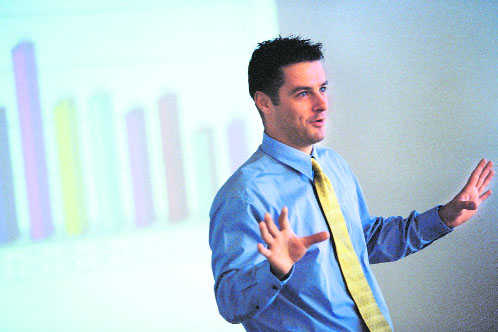 Ruchira Karnik
It is absolutely natural to be bamboozled when you're starting off as an entrepreneur and are writing a business plan. It gets even more nerve-wracking when you know you have to present it before industry biggies and investors. But know that if you do your homework and have the basics right then you can deliver it with incredible finesse. If your business idea has a direction, it is good enough to establish the fact that you have faith in it and also have the conviction to pursue it.
Compiled here are a few things budding entrepreneurs ought to keep in mind when they are to present a business idea to investors.
1. Know who you're going to present to: It is of great help if you read and research more about the people you're going to present your plan beforehand. Find out the industries they've worked in and the projects they've invested in. Get your facts right or else you may embarrass yourself if you inflate/deflate figures, especially before industry stalwarts.
2. Stay concise and respect time: Make sure you don't get repetitive because investors want to know what's behind the obvious. Stick to the point which increases the likelihood of holding attention instead of faffing. Be conscious and as soon as you know that you're going off-track, stop. No one including you has the time to waste. Respect that and keep your presentation to the maximum amount of minimum that can explain your idea.
3. Be prepared with questions you may be asked: You may think you have answers to every possible question, but try and think of as many that may be asked. Once you have a list, prepare answers and present data, if possible, to show them that you've considered all aspects. Track down everything to the tiniest details, which will demonstrate that you know what you're saying. This may result in serious consideration of your plan.
4. Know your competitors: As much as you know what you're up to, you should know your competitors even better. If they have a similar model, then identify what makes you different. Do thorough research; highlight your USPs and turn them to your advantage. Explain why your business idea has an edge technologically or in any other way. Investors like it when you acknowledge competition rather than underestimate them.
5. Explain how you will use the resources: When you're speaking with investors you should know what is it that you're going to use the resources for. If it is money, then give details on where you're going to spend it, i.e. recruitment or marketing and advertising or operations. If it is for human resources, then chart out their work schedule and responsibilities to achieve a certain milestone. Justify why you'll need what you're asking for.
6. Think like an investor: Many entrepreneurs do not address the basic need of an investor. An investor is definitely interested in your business plan but they're more interested in what's in it for them. So, emphasize on factors that result in successful investment outcomes like recurring revenue generation potential, gross profit margins, liaisons with bigger companies, etc.
7. Avoid industry buzzwords: Do not talk in the industry lingo or technical jargon. Keep it to bare minimum,wherever you can. You need to understand that keeping it simple helps. Big words do sound good, but your audience may lose interest. If they cannot grasp what you're trying to say then no matter how excellent your proposal is, it will still fail owing to this one factor you don't pay attention to.
Above all, don't talk in abstraction and practice your pitch before you take centerstage. Besides, if you have a team and you're the only one presenting, pass on the questions to them for detailed answers.
— The writer is Co-Founder, Work Better Training
Top News
Platina bike Amritpal used to escape from gurdwara mounted o...
Several pictures of Amritpal Singh in different attires rele...
Temblor's epicentre was in west Delhi, at 5 km depth