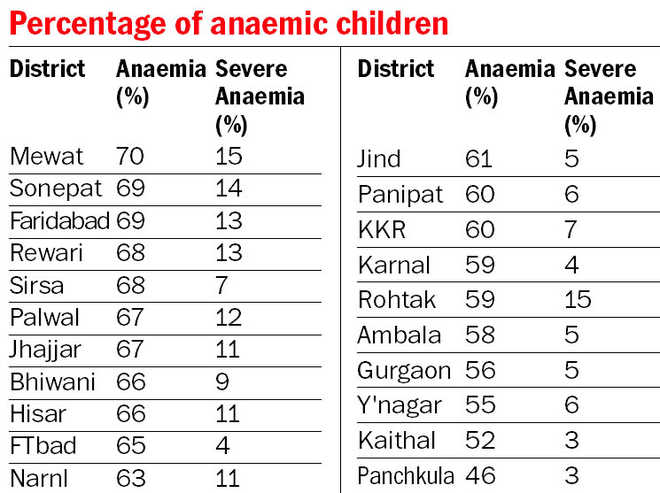 Sat Singh
Tribune News Service
Bhiwani, October 25
Only 27 per cent children between the ages of six months to five years are healthy in Haryana. The rest of them are anaemic and 9 per cent severely anaemic (SA).
This was revealed in the PGI Chandigarh Concurrent Evaluation Survey conducted in all 21 districts of the state recently.
Shockingly, only 30 per cent children below the age of five are healthy in Mewat district, which reported maximum 70 per cent of its children anaemic. It is the highest in the state.
Sonepat stood second on the notorious chart, where 69 per cent of the total children are sufferers. Besides Mewat and Sonepat, Faridabad, Rewari, Sirsa, Palwal, Jhajjar, Bhiwani, Fatehabad and Narnaul have more number of anaemic children than the state average of 63 per cent.
Panchkula is the lone district in the state, where less than 50 per cent children are anaemic.
About 9 per cent of children population is suffering from SA according to the survey and Mewat and Rohtak share dubious distinction of topping the chart at 15 per cent.
There are 14 per cent SA children in Sonepat and 13 per cent each in Faridabad and Rewari. This is followed by Palwal at 12 per cent and Hisar, Jhajjar and Narnaul at 11 per cent.
Experts said deficiency of iron in children less than below the age of five impacted the mental and physical growth of a child and first five years were crucial for any individual.
Expressing concern on the issue, Dr Suresh Dalpat, Deputy Director, National Health Mission, said the dietary habit of Haryana, which consisted of wheat, milk and curd, was the chief reason behind iron deficiency. "Milk and curd that are common in diet of the people here does not contain iron," he said.
He said the government wanted to eradicate it with its innovative Micro Nutrient Supplementation Programme to be carried out from November, which would target 20 lakh children.
Top News
Section 124A of the Indian Penal Code dealing with sedition ...
The postings and transfers of the officers have been made on...
Singh, in a Facebook post, said he has postponed the 'Jan Ch...
The representatives of various khaps and farmers' outfits re...
Petitioner claims to have been falsely implicated in the cas...