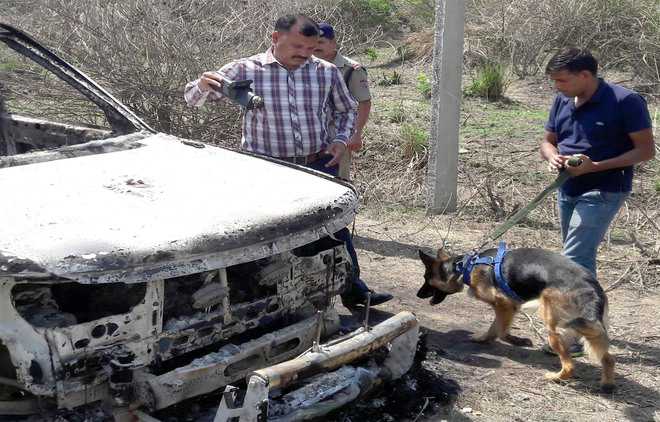 Tribune News Service
Haridwar, May 31
A physiotherapist was found dead inside a burnt car today. Police officials present on the spot hinted it a murder case.
Superintendent of Police (SP), City, Navneet Singh Bhullar said the deceased was Anil Kumar, son of Ashok Kumar of Raghu Nath Mall residential apartment, hailing from Gwalior, Madhya Pradesh.
He was operating a physiotherapy centre at the Shankar Ashram square in Ranipur.
After closing his office at 6 pm last evening, Anil left for his home but when he did not arrive till late night, his family members enquired from their relatives. After getting no clue, they informed the police.
"We flashed information about the vehicle immediately and the patrolling vehicle was sent on the same route which Anil used to take from his office towards home. The burned SUV was found near Bahadrabad on the Ganga Canal stretch, which runs adjacent to the Haridwar-Bahadrabad stretch of NH-58. The badly burnt body was found inside the car. We are investigating the matter with the help of sniffer dogs and finger print experts. We can arrive at a conclusion only after the postmortem report comes in," the SP said.
Senior Superintendent of Police (SSP) Senthyl Abudai Krishan Raj S also arrived at the Ganga Canal stretch and gave the necessary directives to the officials concerned.
Top News
Premises connected to news portal's journalists raided; 46 s...
Prime Minister accuses BRS dispensation of 'looting' funds m...
This is the gist of the letter sent by CM to Banwarilal Puro...
Also said that it's important for Canada to have diplomats o...
Petitioner contended that the nature of information sought i...