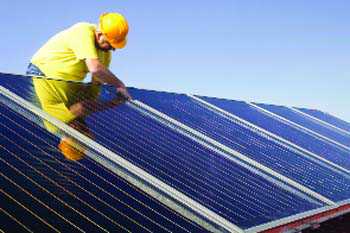 Kuldeep Chauhan
Tribune News Service
Shimla, May 4
The state government's plan to develop the cold desert of Spiti as a 1,000 mw solar energy hub by 2022 has been shelved by the Centre until it sets up the load dispatch station in upper Kinnaur to evacuate solar power from Spiti.
The state government in assistance with the Centre had planned to tap 1,000 mw of solar energy in Spiti by 2022 under the national solar mission. But this has been put on hold by the Central Electricity Authority as there is no transmission corridor to evacuate the power from Spiti, revealed engineers here.
The plan to tap 1,000 mw solar energy has been shelved for the time being, said SD Dubey, chairman, CEA, who was here to inaugurate the three-day training programme organised by the centre for skill development and engineering consultancy here today.
"We need a load dispatch centre in upper Kinnaur to evacuate power from Spiti. This means that the state first needs to harness about 1,000 mw hydropower project in the upper region to make the load dispatch centre feasible", he added.
To tap 1,000 mw of solar power will need mammoth 2,500 hectares as one megawatt of solar plant requires 25 bighas of land, which means forest and environment clearances. Even the state has yet to constitute a nodal agency for the Spiti solar mission, revealed engineers.
But Dubey said the main focus would be on setting up the rooftop solar projects with the assistance of the Centre, which is targeting to harness about 8.4 lakh mw of solar power by 2022.
The 2.5 mw solar and wind energy project is the first major solar project being set up at Rongthong in Spiti – a joint venture of the HPSEBL and Solar Energy Corporation of India. HP Power Corporation is also setting up 2 mw solar plant at Naina Devi in Bilaspur. But this project awaits clearances, said MD HPCL DK Sharma.
Besides, Surya Ushma and the South Africa group has proposed to invest in 100 mw solar energy project in Lahaul-Spiti during the recent investors meet in New Delhi which was chaired by Chief Minister. But nothing concrete has emerged on this so far as the power evacuation remains a major factor, revealed engineers.
Top News
'In Punjab, Rs 11 is considered a 'shagun', so I am announci...
Polling draws to a close | Counting of votes on Dec 3
On Thursday, Supreme Court nullified the reappointment of Ra...
The PM is in Dubai to attending World Climate Action Summit