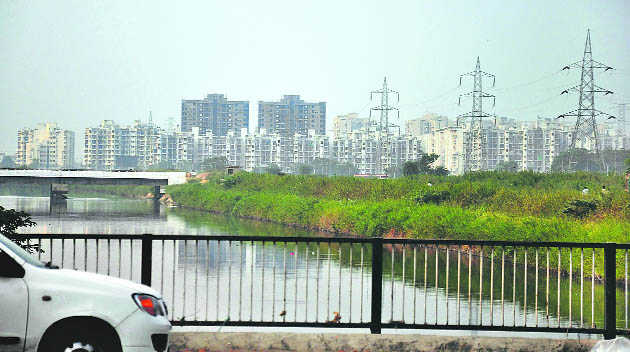 Vinod Behl
NDA government's two- year term at the Centre is marked by far-reaching reforms in the real estate sector, including the landmark Real Estate Regulation Act (RERA). And among the states, Haryana has emerged as a front- runner in land and property related reforms, after the installation of new government in the state in October 2014.
Grievance redressal forum
Even before the Centre could clear the consumer- friendly Real Estate Regulation Act, Haryana government took a far-reaching measure to protect the interests of consumers (home buyers) by setting up Allottees Grievances Redressal Forum (AGRF). The move envisages setting up redressal forums in all districts of the state to tackle issues of delayed possession, breach of builder- buyer agreement, inflated external development charges and internal development charges, cheating on flat sizes, exhorbitant maintenance charges, reneging on promised amenities and specification of building materials, inadequate infrastructure and poor maintenance.
In order to ensure ease-of-business, Haryana government has also formulated a policy under which district level committees can clear small projects requiring investment of Rs 10 crore and grant of CLU for area up to one acre.
Escrow account for projects
While the Union Urban Development Ministry has set a one-year deadline for states to implement its model real estate regulation cleared by Parliament, Haryana has already taken steps to implement one of the key provisions of this landmark Act — to open an escrow account for the housing projects. In a recent decision taken in connection with a stalled project of a leading builder in Gurgaon, Department of Town & Country Planning, has asked the builder to complete the remainder/pending project within a stipulated period by opening an escrow account.
Simplifying of CLU process
As part of its land reform initiatives, Haryana government also came up with a policy for licensed colonies under which builders can exchange land among themselves for better planning of licensed colonies and residential sectors, without affecting net area.
The state government has simplified the process of change of land use (CLU). Under the revised CLU rules, projects up to one acre area and costing up to Rs 10 crore, are given single- window permissions by respective deputy commissioners, while the projects of over one acre area and costing more than Rs 10 crore, are cleared by empowered committee headed by Principal Secretary to Chief Minister. Automatic CLU effected in 75 blocks, has a provision of Auto CLU Permission with an automatic dispensation of deemed clearance in case the competent authority does not decide on the request for grant of CLU permission within the prescribed time frame of the department.
Forward thrust for affordable housing
In order to boost affordable housing the new policy initiated by the state government has a provision to allow the builders of affordable housing projects to receive up to 25 per cent of apartment price without getting environment clearance.
It also has a provision for money to be returned by the builder to customer with 12 per cent interest in case the builder is not able to get environment clearance within a period of 12 months from the date of accepting the money from customers.
The Affordable Plotted Housing Policy 2016 facilitates the creation of additional affordable housing stock in the low and medium potential towns of Haryana. The policy aims at developing high density plotted colonies by making small plots available through a liberal policy framework.
Under this policy, the planned area of residential projects will be between 5 acres and 15 acres and the maximum permissible plot size would be 150 sq metres.
New licencing policy
Another landmark reform undertaken by the new government pertains to new land development policy christened 'New Integrated Licensing Policy (NILP)' for residential and commercial complexes. This will give a big push to housing, particularly affordable housing. Under this policy initiated for high potential areas of Gurgaon-Manesar- Sohna, Faridabad-Ballabgarh, Sonepat-Kundli, Panipat and Panchkula-Kalka- Pinjore, the minimum land cap for large housing projects has been reduced from 100 acres to 25 acres to ensure that large tracts of land lying unused due to tough provisions of New Land Acquisition Act could be put to use to develop housing and related infrastructure and land owners, especially small land owners get the market rate for their land.
As part of this policy the concept of Transferable Development Rights (TDR) prevalent in states like Maharashtra has been introduced in Haryana.
With the introduction of TDR concept, land owners can monetise their land holdings at current market prices in residential sectors and in areas marked for external development works like sector roads, creating infrastructure for water, sewage, electricity besides social infrastructure like schools, colleges, hospitals, parks etc.
On the other hand, builders can raise FAR of their projects by buying TDRs from land owners, which will in turn benefit property consumers by way of affordable pricing. NILP , thus, is meant to balance the interests of all stake holders, including land owners, real estate developers and investors/buyers/consumers of residential plots or flats.
Renewable energy initiative
Haryana has also taken measures to promote renewable energy. As part of Haryana Solar Power Policy 2016, the focus is on rooftop solar power systems , making these mandatory for plot sizes of 500 sq yd or more.
Solar plants have also been made mandatory in all government and private educational institutions, universities and offices having connected load of 30kw and on top of all private hospitals and industrial and commercial establishments having connected load of 50 kw. To promote energy efficiency in homes, the state government has made the use of LED lamps mandatory by amending the zoning plans of licensed colonies and CLU granted sites. Implementation of this rule is to be ensured at the time of grant of Occupation Certificate.
Moving to digital era
This realty reform process initiated by Haryana government carries on with many other reforms in the pipeline. By June 2016, the property licensing and all processes pertaining to CLU are expected to go online. And since the online system will disclose minute details of project and allottees, it will come handy in checking EWS scams like one person applying and acquiring multiple flats.
It will also check corruption in granting licenses for real estate projects and granting CLU from agricultural to residential/institutional/industrial land.
By June 30, the state government also proposes to digitize all land records in the state. Land records in Gurgaon have already gone online. The state government is also going in for detailed digital mapping of all the cities in order to make available geo-spatial data to all the departments for their planning needs.