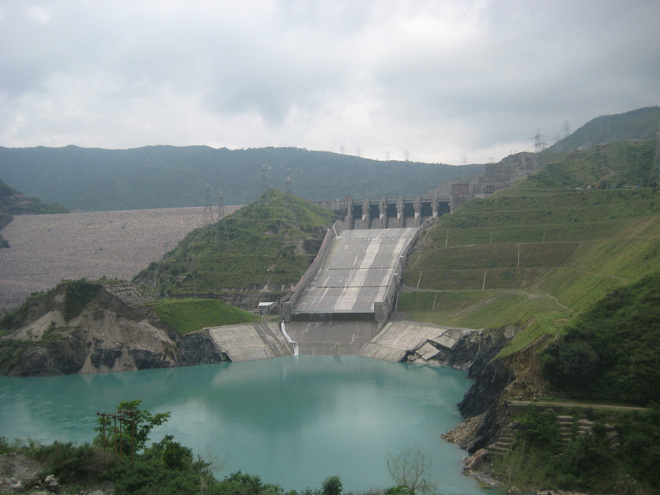 Mahesh Chander Sharma
Sundernagar, November 1
The construction of 800 mw Kol Dam has come under scanner as both sides of the "plunge pool" have been damaged in a few months of operation which not only shows the poor quality of construction but also the faulty design.
The Kol Dam has not been inaugurated formally but its structure has started eroding.
The foundation stone of the dam situated on the boarder of Mandi and Bilaspur was laid in 2000 and after much delay, all turbines started producing electricity in the second week of June.
The dam was built on the Sutlej. To control the speed of water a plunge pool had been constructed at the bottom of spillway in the bed of the river.
According to sources from the Kol Dam, they have stopped releasing water since the first week of September. A visit to site revealed that the much damage has been caused to the sides of plunge pool.
Parveen Bharti, PRO of the project, ruled out poor quality of construction and said the damage to plunge pool was anticipated .
On the other hand, an official said it was not just a case of poor quality of construction, but also faulty design that the plunge pool was damaged even with the less flow of water .
Venod Chaudhary, GM of the Kol Dam, said some damaged had been caused to both ends of the plunge pool and estimate was being prepared for its repairs which would exceed Rs 5 crore and the repair would take around four to five months.
Top News
Former British PM Winston Churchill and South African Presid...
Accident relief trains have been dispatched to the spot
WFI chief demanded sexual favours in lieu of supplements and...
Said agitation will be intensified by holding panchayats acr...
Vaishnaw said his ministry had recently launched the 'Sancha...