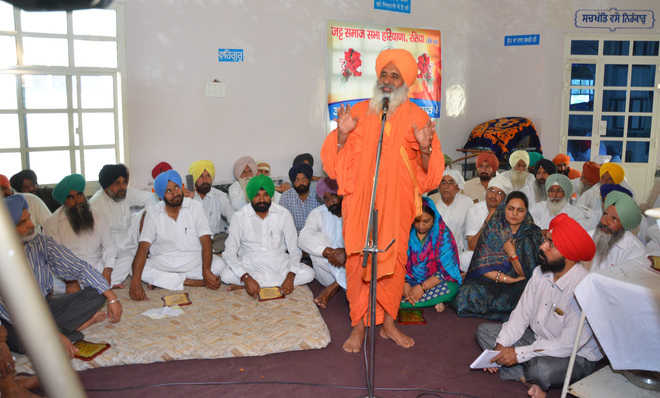 Tribune News Service
Chandigarh, April 6
Noted environmentalist Balbir Singh Seechewal today said rivers were a natural heritage for the mankind and none had the right to pollute them.
Seechewal was addressing people at Gurdwara Ajitsar in Ratia, Fatehabad, where he had gone on the invite of Jat Samaj Sabha for guiding people in their "Ghaggar Bachao, Zindagi Bachao" campaign.
He said people set up big industries to mint money, but in the process made lives of other perilous by polluting rivers with poisonous effluents comprising hazardous chemicals. He said polluting rivers was a criminal activity and the governments should take action against those perpetrating such crimes.
Seechewal said when he started the water-cleaning project of Kali Bein in 2007, it was a challenging task. But as people became aware of its importance, they joined him in cleaning the rivulet, which had become a dried-up drain and was reduced to a garbage dump with its historic and religious significance long forgotten.
The Padma Shri award winner said people were facing water scarcity these days, as the groundwater level has dipped. "But this can be changed. The discharge of effluents into natural rivers has blocked the recharging process. If polluted water can be stopped from entering the streams, the water table will automatically improve," he said.
Seechewal said, "India faces a peculiar situation. When it rains, we have floods and when it doesn't, there are severe droughts. This is happening because the water is not being recharged. If it is recharged properly, we will never face scarcity of water. And it would be available to the coming generations."
He called upon people to stop relying merely on governments for the task of saving Ghaggar from pollution and force them to act by launching a campaign on this issue. He assured them of all help in their campaign.
Earlier, Sabha functionaries Tejinder Aujla, Naib Singh Mander and others received Seechewal on the Kamana Bridge and showed him the polluted river.
Ratia MLA Ravinder Baliala, BJP leader Sunita Duggar and former INLD MLA from Tohana Nishan Singh were among those present.
Top News
China is yet to name its Ambassador to India after Sun Weido...
In his police complaint, Sikh priest says 'Waris Punjab De' ...
Scotland Yard blockades area outside India House, several ad...
Minister for Water Resources Gurmeet Singh Meet Hayer moves ...