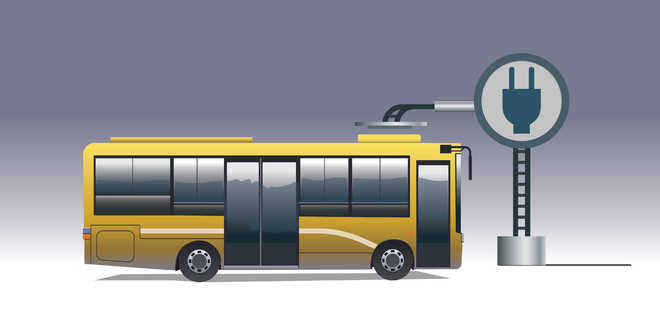 Ramkrishan Upadhyay
Tribune News Service
Chandigarh, May 29
To reduce pollution being caused by the ever-increasing number of vehicles, the Administration is contemplating starting electric buses in the city.
A company made a presentation on electric buses before senior officers of the Administration on Friday.
Parimal Rai, Adviser to the Administrator, KK Jindal, Secretary (Transport), and Amit Talwar, Director (CTU), were among those who witnessed the presentation. The company also gave a presentation on CNG buses.
Sources said the Adviser asked the Transport Department to explore the possibility of starting electric buses on a trial basis.
The Centre is providing subsidy for introducing zero-emission retrofitted electric buses under its flagship scheme FAME India (faster adoption and manufacturing of hybrid and electric vehicles in India).
Under FAME India, the Centre will fund up to 75 per cent of the cost of the buses. According to officials of the company, the electric bus is a zero-emission vehicle and is safer than the traditional buses. The electric bus has all features such as air-conditioning, CCTV, public address system, firefighting equipment and comfortable seating facilities for passengers.
Electric buses are already running successfully in several countries and trials are going on in some Indian cities, including Delhi, Bengaluru and Pune.
Under the plan, the department would convert one of its existing bus depots as a clean fuel depot for electric buses and all kind of facilities such as charging would be provided there. On a five-hour charging, the bus can run around 250 km. The operational cost of the bus is lower than the traditional bus.
Top News
Were returning from Amarnath yatra duty
While RJD got 16 ministerial berths, Nitish Kumar kept 11 fo...
Jammu and Kashmir Lt Governor Manoj Sinha has condemned the ...
A prime minister for six years between 1998-2004, Vajpayee d...
The men, who are non-exclusive partners living in the same h...