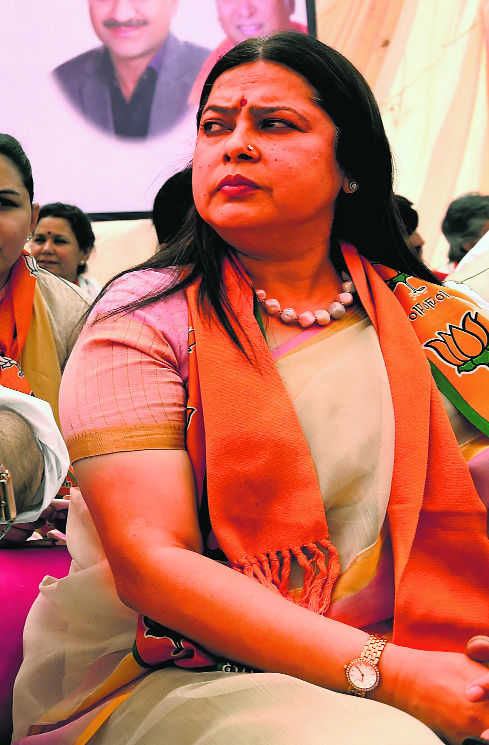 Aditi Tandon in New Delhi
It's heartening to see top cricket players face action for their failings off the field, what's worrying is the impunity with which sexism and misogyny continue to be practiced and condoned in Indian politics. Recently, Congress president Rahul Gandhi raised eyebrows by asking Prime Minister Narendra Modi why he sent a "woman" (read Defence Minister Nirmala Sitharaman) to defend him against allegations of corruption in the Rafale deal.
The PM lashed back painting Gandhi anti-women and adding, "This is not the insult of one woman, this is the insult of entire Indian women's power." What followed was another offensive from Gandhi. "In our culture, respect for women begins at home," he said to the PM. His message not lost on anyone since the Congress had made Modi's marital status an issue in the 2014 Lok Sabha elections. The Gandhi-PM spat would have ended but for a notice, the National Commission for Women's slapped on the Amethi MP asking him to explain his "offensive and sexist" remarks about Sitharaman. That said Gandhi is not alone in Indian politics where sexual innuendos rule, defining deep-rooted patriarchy. Modi himself has been caught making disparaging remarks in the past. His "50 crore ki girlfriend" jibe at Sunanda Pushkar, the late wife of Congressman Shashi Tharoor, comes to mind as does his does comment of budhiya-gudiya Congress.
"Politicians cut across party lines when it comes to practicing misogyny. Sexist tendencies are deep rooted in our culture but they find their fullest expression in Indian politics. That explains why a senior leader like Sharad Yadav gets away with calling Vasundhara Raje, the former Chief Minister of Rajasthan, fat. That also explains why BJP leaders get away with mocking a woman MP from the opposition ranks just because her laughter was too loud for them. We can pretend to be an equal society but we will take long to practice equality," Prof Rizwan Kaiser of Jamia Millia Islamia says.
Kaiser's last reference was to Rajya Sabha chairman M Venkaiah Naidu asking Congress MP Renuka Chowdhury to "go visit a doctor" last year after she laughed too loudly during PM Modi's speech in the House. The PM, too, jested about Chowdhury's act, telling Naidu, "Mr Chairman, don't say anything to Renukaji. Ages after the Ramayana has one had a chance to hear such laughter."
Everyone recalls how a livid Congress had forced several adjournments of the Rajya Sabha on the issue seeking the PM's apology for equating Chowdhury with 'Saroopnakha'. Snide, misogynistic remarks are not new to women politicians. Former Prime Minister Indira Gandhi was called a 'goongi gudiya' by her rivals. BJP leaders still refer to Sonia Gandhi as "that Italian bar girl". Maharashtra Congress leader Sanjay Nirupam had once offensively called Union Minister Smriti Irani, a former actor, a 'thumke-waali'. Late Tamil Nadu Chief Minister and the icon of Dravidian politics J Jayalalitha was manhandled by a DMK minister inside the state assembly.
"Misogyny is much deeper in politics than in any other profession. That's because politics is harsher than any other calling. A woman politician exercises the same power as a misogynist imagines a male politician alone can exercise. That makes sexism deeper," Mahila Congress president Sushmita Dev says. Experts, meanwhile, wonder why India has not had its Julia Gillard moment yet. Sworn in as the first woman Prime Minister of Australia in 2010, Gillard took the world by storm when she attacked her rival and the then leader of the opposition Tony Abbott for his repeated use of sexist language. No Indian woman parliamentarian has looked misogynistic male rivals in the eye the way Gillard did. This when India got its first woman PM decades before Australia did.
"It's more about each individual's attitudes to sexism. I have never faced vilification in my career. That's because people know they cannot mess with me. But misogyny is real and acquires varied forms in politics. One form is language. The other is the level of political representation parties give to women. The BJP has done its best to empower women and put them in leadership roles. We have women heading the external affairs and defence ministries. That's a powerful message for a gendered society," says BJP's Lok Sabha MP from New Delhi Meenakshi Lekhi, who heads the Lok Sabha Committee on Privileges. But even a "pro-women" BJP hasn't cared to pass the long-pending Women's Reservation Bill to reserve 33 per cent seats for women in the Lok Sabha and state assemblies. The NDA did pass another law though — to reserve 10 per cent quota for general category poor in public jobs and non-minority educational institutions, all in a matter of three days this winter session of Parliament.
A cursory glance at parliamentary committees further shows how gender insensitive and misogynistic the Indian political system is. None of the 24 standing committees are headed by a woman. Finance committees have near nil representation of women for reasons not far to seek.
"This must change. I grew up to be a citizen of India, not a girl or a boy. I used to ride a bullet in college, I drove a tractor in my village and I performed the last rites of my father. I stood up for my convictions and never let social hypocrisies get the better of me" says Renuka Chowdhury, who was mocked at in the Rajya Sabha. But most women politicians privately admit that it's easier to talk against patriarchy than to fight it. One of them cites an example from March 2015 when then JDU MP of Rajya Sabha Sharad Yadav made sexist and racist comments about South Indian women.
"He said women in the South are as beautiful as their bodies and those in the North are not as good. When Minister Smriti Irani urged him to stop making racist comments, he told her — I know who you are. He was clearly referring to Irani's past as a TV actor," recalls a woman MP. Maybe it's time to implement what CPM's Brinda Karat had once suggested in Parliament — a code of conduct for male MPs.
Sexism in Indian politics
After kicking up a row over his description of Congress as an old woman, PM Narendra Modi today said he would now call the party "Gudiya Congress" instead of a "Budhia".
Rahul Gandhi recently said, "Pradhan Mantri ne ekk mahila se kaha meri raksha kijiye." He said this when Defence Minister Nirmala Sitharaman replied to the Rafale debate in the Lok Sabha
Sharad Yadav, former MP, during the recent Assembly election campaign in Rajasthan, said: "Give her (then CM Vasundhara Raje) some rest; she is tired and is getting fat."
Mulayam Singh Yadav at Barabanki once said, "Only women from the rich classes can progress in life. You rural women will never get a chance as you are not that attractive."
Abhijit Mukherjee, Congress MP, on mass protests over 2012 Delhi gangrape: "Dented-painted women protesters in Delhi went to discotheques and then turned up at India Gate to express outrage."
Sushil Kumar Shinde, former minister, to MP Jaya Bachchan during a debate on ethnic violence in Assam, "Listen carefully, this is a serious matter. This is not a filmy issue."
Sanjay Nirupam, Congress MP to Smriti Irani: "Char din hue hain aur aap rajnitik vishleshak bani firti hain. Aap toh TV pe thumke lagati thi, aaj chunavi vishleshak ban gayi"