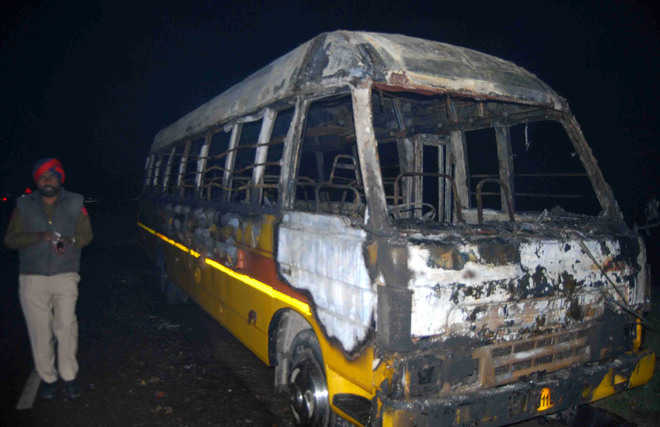 Tribune News Service
Mohali, February 22
A tragedy was averted on the Airport Road near the TDI city when a private bus caught fire following a short circuit here late last night.
A fire tender reached the spot and took around 45 minutes to douse the flames, coming out of the bus. Fortunately, nobody, except the bus driver, was on board when the incident occurred at around 11.15 pm last night.
Noticing the smoke and sparks, the bus driver immediately jumped out of the bus. According to sources, the bus on which the name, Gian Jyoti School, was written, was being used for transporting employees of some call centre. "The bus was returning to Mohali after dropping the employees", said the sources.
However, the bus owner, Tajinder Singh, said that the bus was not being used for transporting purposes of late. Tajinder Singh said the driver was taking the bus from Kharar to Mohali following his directions.
JS Bedi, the director of Gian Jyoti Group of Institutes, too confirmed that the bus in question was not being used for any of their institutes.